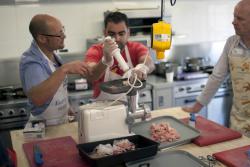 Ever wondered how a chorizo gets its intense, smoky flavour, how a Frankfurter gets its distinctive colour or how a Milano salami gets its unique texture? If the answer to these or any other sausage related questions is yes, then Leith's School of Food and Wine has a new course devoted to sausage making that could be just what you're looking for.
Culinary diplomas and certificates may be Leiths bread and butter, but the West London catering school also hosts a wide selection of workshops, covering everything from knife skills, to sushi preparation, to Middle Eastern cuisine, to gluten free baking. Its most recent addition sees the spotlight turn on the humble sausage, and I went along to find out what a novice like me could learn about the art of sausage making in one session.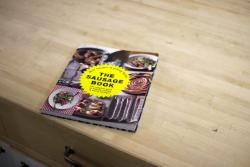 Hosted by Nick Sandler, co-author of 'The Sausage Book', and all round sausage guru, the course is part demonstration, part hands-on and covers all the basic sausage making skills you will ever need, including mincing, mixing, stuffing and lots of advice on casings, cooking, curing and smoking.
Proceedings begin with a cup of coffee and pastry followed by a brief introduction about the process of sausage making, different styles of sausages from around the world and an overview of the day's schedule. None of the sixteen attendees had any prior experience of sausage making, which was comforting, and interest levels in the subject matter ranged from minimal to obsessive.
The practical aspect of the day kicks off with a good mincing session, first it's a joint of veal, then a whole pork shoulder, next some pork fat and finally lamb fillets. It quickly becomes apparent these aren't going to be those 20% meat sausages you find in majority of high-street supermarkets; here it's nothing but pure, unadulterated meat.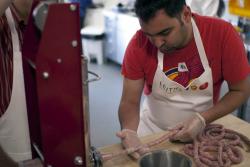 The sausages that feature on the days menu vary from course to course, this time it's Merguez, a spicy North African sausage made from lamb, Weisswurst, a Munich speciality made from veal and the good old British Chipolata made from pork and plenty of fresh herbs.
Apparently, when making sausages there are really only two rules you need to strictly follow, one is that the fat content must be between twenty and thirty per cent, the other is the salt content should be between 1.5 and 2 per cent. Aside from that as long as you use good meat, fresh herbs and spices, you can't go too far wrong.
Following the mincing there's mixing, and then it's time to learn how to fill the casings with our homemade sausage meat. Initially the whole process looks very daunting, but with some good coaching, everyone is an expert by the end of the day.
The remainder of the afternoon is focused on creating a few simple recipes to accompany the freshly made sausages followed by a handsome banquet consisting of everything that has been prepared throughout the day.
The course is scheduled to last from 10:15 until 14:30, but following a few minor set backs, it was actually closer to 15:30 by the time the last person finally left clinching his industrial-sized Tupperware box brimming with the days catch.
The cost is £130, which isn't cheap, but considering the quality and quantity of the ingredients used, the volume of useful information you learn, the hearty meal at the end of the day and the vast amount of sausages you get to take away, it is actually very reasonable. The perfect gift for meat aficionados or anyone interested in learning more about sausages.