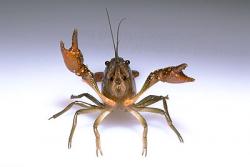 If I didn't know better, if someone told me they were heading down to their local Ikea for a kräftskiva, I'd probably assume they were talking about a reasonably priced bed side table.
As much as a kräftskiva could very plausibly be another piece of Ikea furniture, it actually denotes something infinitely more fun.
A kräftskiva is in fact a traditional Swedish crayfish eating party, an event reputed for its rowdy atmosphere, high levels of alcohol consumption, raucous singing and for generally being tremendous fun.
Intrigued? Well, you're in luck – in a bid to break the world record for the biggest Crayfish party ever, on the third of August (this Wednesday), Ikea are staging Crayfish parties at the restaurants of each of their UK branches. Entrance to the event is £8.95 for adults and entitles you to all the Crayfish you can cram down your gullet.
As separating the creatures' meat from their exoskeletons is apparently thirsty work – perhaps a new task for the infamous Ikea allan key – traditional Swedish drinks (likely to include Akvavit, a Swedish white wine without which no crayfish party would be complete) will be provided, along with unlimited soft drinks.
As much as it's not clear whether these parties, composed as they will be of British Ikea goers, rather than bona fide Swedes, will be able to live up to their Swedish counterparts in terms of singing, the event does look set to be good fun. That said, I would implore any Swedish ex-pats to head down to their local Ikea to show the dour English how it's meant to be done.
Actually, in order to keep things suitably authentic, perhaps I should run through some of the customs of Crayfish parties. I am informed that any true Crayfish party must be started with a song called 'helan går' which roughly translates as 'here goes the first one'. Singing is equally mandatory every time you take a drink of Akvavit – which you are obliged to do every time you eat a Crayfish Pincer.
So, with the above rules scrawled on the back of your hand, and perhaps having skipped lunch, I urge you to head down to your local Ikea this Wednesday (not something I'd usually say) and over indulge in true, Scandinavian style.
The Ikea Crayfish party takes place from 7:00 to 9:00 pm on Wednesday the third of August (though exact times may vary from store to store).
Standard adult entry is £8.95
Adult entry with an Ikea Family Card is £6.95
Entry for the under twelves is £4.25 and free for under fives.