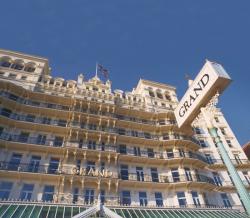 I've lost count of how many times I've propped up the bar at The Grand Hotel in Brighton. With a murky employment past that takes in party politics, pressure group campaigning then lobbying, doing the party conference circuit was inevitable. Brighton, Blackpool, Brighton, Blackpool, Brighton, Blackpool then Bournemouth was added to this B-list.
Between jobs one autumn, I liberated myself from handing out leaflets on the fringe, and carrying bags for off-duty, out-spoken, headline-making cabinet ministers, to go eating in Normandy. No amount of persuasion (that's not a boast; who else would want the tasks I was doomed to do?) worked to overturn my date with Calvados, cream and butter (preferably all together). Sitting on a bench after a flaky with sticky-middle croissant, my softly-focused, distant gaze sharpened.
A board proclaimed a shocking newspaper headline. It was 1984 and the IRA had penetrated The Grand with devastating effect. Guilt and relief flowed through me simultaneously while I tried to convey the significance of the event to my US companions. I can't claim I'd have been at the hotel – the bomb detonated long after I'd have disappeared to fold flyers for the next day's events – but friends and colleagues could have been. Mmm, said the Americans as they chose cheese for our picnic lunch.
The event might have been inconsequential to them but it is part of The Grand's great history, its bar leaned on by journalists after interviewing secretaries of state, ministers and back bench rebels, or their opposition counterparts, plus trade union leaders and the would-be generation of them all. In those days the hotel was on the edge of scruffy, beyond faded grandeur. Heat and sweat hung thick and dank as guests ogled the famous struggling to get through the masses to the sweeping staircase beyond or to the Newsnight studio to decode hidden meanings in speeches. The Grand reflected the town and its conference visitors – genteel elegance amid rough shabbiness.
Quirky, comfortable luxury
There is no rough or shabby now. After a sensitive and clever £5m refurbishment overseen by the hotel's general manager Andrew Mosley, The Grand's opulent lobby is balanced by huge comfy sofas, cleverly chosen sea-themed lamps, quirky wood sculptures and bowls – the lounge is now where you would want to be seen lounging around.
In the terrace overlooking the sea, a 20-something couple dressed à la mode ordered an after work glass of champagne. A family party, including teenagers not embarrassed to with their parents in this now acceptably cool location, powered through the hotel's grand afternoon tea.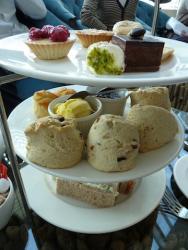 You would expect the terrace to be crammed, maximising income per square foot. Not so. The Grand wants people to relax. Seats are generously wide and deep, tables long, broad and well spaced out, the room accommodating about 20 people. We accommodated about 20 sandwiches, half a dozen pastries and two scones with clotted cream and jam. Each. Plus champagne. And tea (or infusions) chosen from a 20-strong list.
Emily Dempster, the pastry chef at The Grand, is exceptionally talented. Her just-baked scones were all-at-once crisp, moist, light and dense; the pastry of her miniature cherry bakewell tart was the most buttery and delicate I've ever eaten (though the filling could have done with a bit more almond essence). Sandwiches (no crusts, of course) were astonishingly fresh, the chicken with tarragon mayo my favourite.
Keen to work up an appetite for dinner, we ambled round the massive spa, then under construction but now open, offering girly pampering and male grooming including a suite for couples.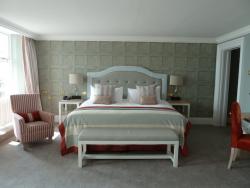 Bedrooms have an air of sea-freshness – light, soft colours for the light, soft furnishings. The £5m budget is modest for a hotel of this size – and one which faces tricky limitations that come with a Grade II listing. The compromise in the cleverly upgraded, long but narrow bathroom of my sea-facing bedroom was a shower curtain, not a shower screen – there simply wasn't the space for a screen and that was fine by me.
From faggots to oysters and eggy bread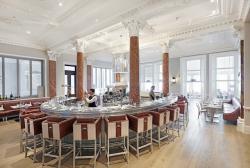 There is plenty of space in the hotel's new restaurant, GB1. It faces the sea; fish is landed daily a short distance from the hotel; and The Grand's executive chef, Alan White, has created what no one at the hotel had done before – a fish restaurant. Alan first arrived at The Grand 20 years ago as an intern. His career progressed through a Coventry country club, Paris, cooking first class meals for Qantas Airlines customers to executive head chef at the Hilton, Brighton Metropole and The Selsdon Park Hotel in Sanderstead. He has been executive head chef at The Grand since 2005. Influences and inspiration come from Pierre Koffmann, the Roux brothers and Raymond Blanc and his grandmother's traditional pot roast, faggots and beef in brine recipes.
Instead of a salt-rimmed Black Margarita, I sipped a Lady Marmalade cocktail (a sharply sweet blend of Grand Marnier, gin, lemon and sugar) at the glitzy bar while nibbling on moreish crab flavoured popcorn – an example of Alan's modern, innovative approach.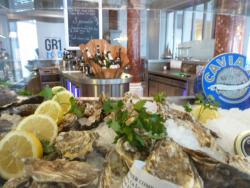 Oysters, rock and native, piled on ice in front of us were an irresistible starter. Served with six sauces, including chilli and pickled ginger, they were shucked at the bar. Others had duck and pork – a fried duck egg with Sussex pork belly, wild mushrooms, veal jus and eggy bread. You can see the appeal – and it won much praise.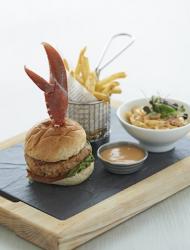 Alan's signature main courses include a lobster burger, a claw stabbed through the brioche bun for dramatic effect. This was the boys' first choice and, judging by their faces, grunts and hands, it was finger licking heaven. I chose the south coast turbot with samphire and seafood casserole with a girolle fish sauce which had me scraping bread round the bowl to slurp up every last creamy smear. The fish-shy can feast on steaks plus whatever is at its best (for us it was South Downs lamb and Gressingham duck). Veggie options included truffled risotto served with Sussex camembert. Sides change with the seasons; mange tout glistened with clarified butter; chunky chips are on the menu year round. There were six single word puds. Chocolate – a Valrhona chocolate fondant with banana and peanut butter ice cream – drew gasps of praise as did Lemon – an intensely citrussy posset with a generous quenelle of clotted cream and tiny cubes of lemon jelly. We took advice on wine pairings; a full-bodied Boom Boom, a shiraz from Washington State, worked well for us all.
Fish filleting masterclass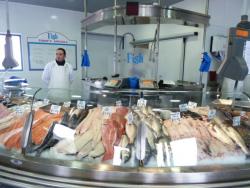 To emphasise the hotel's fishy credentials, the next morning Alan took us to Fish at the Hove Lagoon to see the day's catch. Behind the shop (with a steady flow of regulars) is a huge quayside operation that electronically grades the fish, and teams of four working round the clock filleting fish. Fish supplies The Ritz, The Dorchester, Pollen Street Social. Owner Paul Bennet despairs at a general lack of awareness of seasonality; his boats land whatever is available and it's all on show at the curved fish counter but still customers ask for the unavailable. If you are embarrassed about your lack of knowledge, check their handy monthly fish availability guide. If lack of skill is your failing, book one of their fish preparation courses.
Counting the cost of fish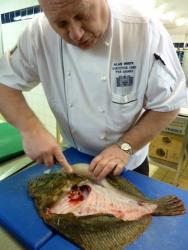 Our next stop was just that – a turbot filleting masterclass with Alan in the kitchen of The Grand and a quickie version of the signature dish that I had found so satisfying the night before: turbot with a seafood sauce. Alan stressed that investing in a fish-filleting knife (it must be bendy) is essential to get the most from the fish. He moved the blade deftly through the plump fish, hugging the bones to leave nothing behind. Off came the skin, clean. Alan explained that many balk at the price of turbot and chose something else. Alan's turbot had cost £50 but with competent filleting (which anyone with a filleting knife can achieve) it provided eight similarly good-sized portions and a couple of smaller chunks (for private indulgence). At £5 a portion it compares with, for example, lamb shanks from a butcher – but a canny use of less expensive ingredients adds sophistication and gives greater value for money. Using the bones to make a fish stock for the freezer makes the £50 turbot earn its price in food.
Recipe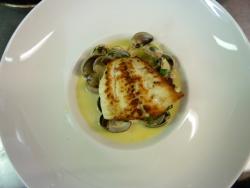 Those portions of turbot were not to go to waste. Thanks to Alan and his brigade, the other ingredients were already mise en place in the kitchen. On went our aprons, on went the gas, on went our pans and on went the turbot and seafood sauce. We trooped through to the terrace of GB1 and ate our attempts at recreating Alan's recipe while facing the sea in which our turbot was caught that morning. 
One night at The Grand, bed and breakfast, starts at £85 per room. Upgrade to a Chambre Unique room and enjoy Smart Theatre TV, your own music on Bose SoundLink Bluetooth Speakers and a Starbucksâ"¢ Verismo coffee machine so you can be your own barista. Cocktails around the bar at GB1 start at £7.50; set lunch menus, including a glass of wine, range from £9.50 for one course to three courses for £15.95 though I recommend the full experience, drinking and eating à la carte from Alan White's inspired GB1 menu.
The Grand Brighton97-99 King's RoadBrightonEast SussexBN1 2FW