Indian cuisine is close to our hearts, woven so tightly into the fabric of British life that many of us are curry-literate as soon as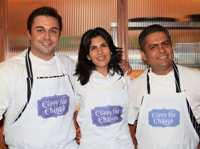 we're capable of conversation. And Find Your Feet's 'Curry for Change' campaign has certainly got us talking. 
The tiny British-based charity works year-round with developing rural communities in India and Africa – but June is the month they urge us to up our intake of bhunas and baltis to bring in extra funds specifically used to alleviate hunger. And what better excuse do you need to gorge on a gorgeous rogan josh or dial up a dopiaza-dhansak double-feature?  
Whether a cook or eater be, you can get spicy and get involved. Keen curry chefs are encouraged to host their own pop-up events, cooking up a curry for paying friends and family. If you can't cook or won't cook, you can head to Cook – the frozen ready meal specialist – who will be donating a portion of the price of each curry portion sold to Find Your Feet. 
Home hosts won't be up the Ganges without a guiding hand – you can sign up at Find Your Feet for a free 'Curry for Change' event pack, packed with spices, helpful resources, and fool-proof recipes from Anjali Pathak and charity patron, Atul Kochhar. Having had a once-over and got our bellies rumbling, we're waiting on an invite from our own Zoe, aka 'The Spice Scribe'.
If she doesn't curry up. we'll just crash a curryhouse – or even a top Indian restaurant. Partner venues include all of Vivek Singh's London-based Cinnamon restaurants; Atul Kochhar's Benares and Indian Essence; Cyrus Todiwala's Cafe Spice Namaste; and Bromley's brightest, Cinnamon Culture. 
Whatever spices your saag aloo, make sure you add your own masala to the worthy mix this month. And curry up about it – there are people going hungry, and they're depending on you dining. In, out, shake it all about – Just make sure your scoffing is helping Find Your Feet help someone in need stand on their own two.