Riverford Organic Farms is encouraging families to prepare and enjoy meals together with its fresh food deliveries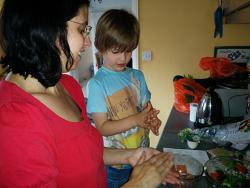 There's no better way to get your kids interested in the food they're eating than to encourage them to help you prepare it. When they've taken an active part in creating their dinner, they are much more likely to enjoy it – and eat all of it, so say the childcare experts. Having struggled to get my 4-year-old son to eat some of the food I make for him (he will happily wolf down chicken korma but turns his nose up at macaroni cheese. I know; it's a mystery), I was looking forward to seeing if getting him involved in making his dinner would make him more keen.
Riverford Organic Farms, known for its fresh organic veg box deliveries, also has recipe boxes, with everything you need to create three dishes, from the meat and veg to the herbs and oils, all measured already so you don't have to think about it. I chose the Quick box comprising of ingredients to make three fairly quick meals (ready in 30 minutes) with seasonal produce that changes every week.
Out of the three meals: aubergine miso, tomato chicken and lamb meatballs, I thought my son would enjoy making the meatballs the most. I got him adding the herbs and oil to the mince and rolling them up into balls, all the while explaining what we were doing, telling him the names of the ingredients and asking him to describe the feel and scent of making the food. He liked the squidginess of it (a bit like Playdoh apparently), and I was impressed at his concentration – often, if something doesn't include cars or dinosaurs, it's hard to hold his interest, but he was very focused with this!
With detailed recipe cards written by Riverford chef Bob Andrew, we followed the instructions and fried the meatballs together, and I prepared the salad and yogurt dip while my son put the pitta breads in the toaster to warm up. A few minutes later, we all sat down to eat a lunch we made together; my son feeling very pleased with himself that he'd helped out cooking and finishing most of his plate (I still struggle with getting him to eat anything obviously green), so we were all happy.
The other two meals, I saved for my husband and myself – the miso aubergines with crunchy Asian-style slaw had a punchy flavour and good combination of different textures, while the chicken parmigiana escalopes with mozzarella and tomato with watercress were tasty and tangy; with just the right amount of cheese to add a hint of richness.
It was great fun cooking with ingredients from a Riverford box; I found it took the hassle out of the preparation stage of cooking, with everything there ready for you, so you can get started making delicious meals straight away. It's good if you want to eat seasonally too without having to do the research about what to buy when, as you will be sent the best food for the season, as well as ideas and guidance for getting the most from your meals.
Riverford recipe boxes cost from £29.95 for an Original box; for details, visit www.riverford.co.uk/recipeboxes