Emma pushes her professional glutton capabilities to the limit at the food festival that's putting Zurich on the foodie destination map.
In late June, a Frenchman, an Italian, a Swiss hotel manager and an English girl wandered into a bar. It might sound like the beginning of a terrible joke, but this was actually the start of what I had expected to be a sedate trip to Zurich.
Skipping forward and hour or so – after the cocktails and cigarettes downstairs (yes, if you can believe it, in Switzerland there are still places you can smoke inside); after the expats had taken to the neon-splashed dancefloor in a haze of Euro pop classics; and after an actual rocking horse had been deposited at our table, its fairground-bright paintjob gleaming demonically under the golden glow of the velvet lamps and a vast chandelier swaying gently from the wooden beams above – I realised that if I was expecting anything when the hotel's dapper chauffeur swept me into the leather-scented confines of his sleek taxi and we pootled into the pristine streets of downtown Zurich, this wasn't it.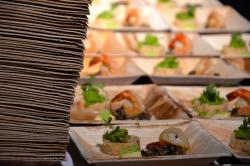 But then again, Zurich, as I found, was full of surprises. Generally thought of as a financial hub and haute couture shopping haunt for bankers and fat-walleted tourists, it isn't exactly where you'd expect to find a five-day food festival dedicated to showcasing the best of the best from the city's finest chefs. However, that was exactly why I was there for the weekend: to visit the fourth annual il Tavolo food festival and to sample Zurich on a plate.
Sandwiched between Italy, Germany and France, it's hardly surprising that Switzerland has borrowed from its neighbours, not only when it comes to languages (walk down any street in Zurich and you'll catch snatches of all four of the country's native tongues: German, French, Italian and Romansch) but also in gastronomy, which has flashes of international flair that extend far beyond its cheese-heavy reputation for fondue, vacherin and raclette.
And that's exactly what il Tavolo is all about – establishing Zurich a premier foodie destination by showing off just how vibrant, varied and accomplished its food scene can be with six waist-expanding events stretched over five days that feature a collection of celebrity chefs, a 200-metre long banqueting table and an entire constellation of 5-star hotels. As I discovered after that'quiet drink' on my first night, Zurich doesn't do anything by halves.
The starter
Before that foray into Zurich's nightlife, I got a taste of what was to come at my hotel for the weekend, the Storchen, a 650-year-old hotel with so much old-school charm and traditional gravitas that it has its own boat station. Aside from one of the best breakfasts I've had – made even sweeter by the fact that you don't even have to get dressed for it, you can simply pre-order from the vast menu and have your selection delivered to your room at the hour you specify – the Storchen's head chef, Fredi Nussbaum, serves up some pretty impressive fare too. Which I discovered when he sent over a plate of perfectly-cooked sturgeon followed by a light as air confection of cherries, absinthe mousse and mint as I drank in the dusk-laden view of the inky-black Limmat river alongside the Frenchman (a vineyard owner), the Italian (a journalist) and the Storchen's Swiss hotel manager and il Tavolo president, Jörg Arnold.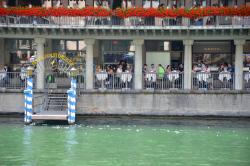 The main event
The real eating began at the il Mercato lunch and dinner on the festival's final saturday – a beguiling combination of fine food and relaxed attitude housed in a huge warehouse that usually plays host to the city's wholesale fruit and vegetable market.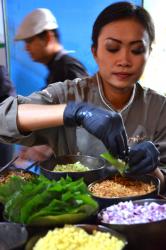 Under an air hanger canopy strung with paper lanterns in rainbow shades, the space had been transformed into a cavernous restaurant with one long table running through the centre, flanked on either side by a legion of cooking stations and stalls selling everything from fat dusty truffles and wheels of cheese to delicately-iced wedding cakes and tins overflowing with pearls of glistening, tar-black caviar.
All that was left to do was peruse the rogue's gallery of top chefs that loomed large and in charge from giant posters stationed next to each cooking section, pick a 5-star hotel and load your plate with one of the two taster-sized courses they were cooking to order. It was a foodie free-for-all, with no limit to the amount of times you could come back to each station for a top up, which was lucky, considering that it didn't take me too long to fall for the butter-covered ravioli and milky pillows of balsamic-drizzled buffalo mozzarella from Da Angela's Mike Thomi, or the spicy little portions of Miang Kam (bitter leaves filled with roasted coconut shavings, chilli, shallots, ginger, shrimp and a squeeze of lime) served up by Nikom Thooppanom from Himmapan Lodge.
With a range of chefs and cooking styles on show, there're bound to be some low points. Mine came in the form of a plate of bland couscous and chicken and a corn dish covered in soggy popcorn that had no place on a plate. Luckily though, the flipside to this is that it isn't long before you stumble across another gem, like the exquisite little quenelle of vanilla mousse with a perfect sliver of tempered chocolate that Maurice Marro and Olivier Rais from Bar du Lac offered.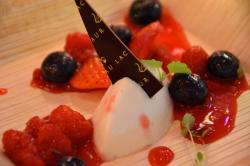 After the long lunch stint, there was just enough time to head back into the city for a half-hearted and full-bellied attempt at catching some of Zurich's most arresting sights – Chagall's stained glass windows in Fraumünster church; James Joyce's old handout at Platzspitz; the birthplace of Dadaism at Cabaret Voltaire cafe – before I was back on the tram for il Mercato, round two.
In the evening, things got a little more, well, Swiss. And by that I mean flashy. It's no secret that Zurich is known for a few things: financial institutions, banking giants and money, money, money. When night fell and the Pommery corks began to pop in earnest, I found myself sitting next to the fabulously glamorous editor of one of Switzerland's biggest glossy magazines and across from the rather lovely former runner up to Miss France, Florence Jacquinot.
The food had a dash more panache as well, with the same chefs returning with jazzed-up menus for the evening crowd such as elaborate little plates of glazed quail with rocket risotto from Frank Widmer at the Park Hyatt, yoghurt marinated duck liver with cherry from The Dolder Grand's Patrick Hetz and smoked salmon, shrimp and herb-spiked wild rice from the Storchen's Fredi Nussbaum.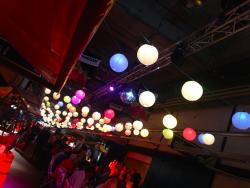 I'd like to pretend that I maintained my dignity here with some sort of nod to moderation, but alas, I didn't. Gripped by buffet-fever I moved haphazardly between the stations, weaving between the wandering live musicians, shiny-faced tourists and lipsticked locals chattering in high-speed German as they tottered past in towering heels, balancing tiny plates up my arms in an attempt to sample everything on offer. It was flavour carnage towards the end, but what a happy ending it was as I sloped back to the Storchen, full of at least one week's meal quota.
The last supper
One of the nicest things about il Tavolo is its final hurrah: a family-friendly brunch held on the Sunday morning, where there's a distinct lack of glitz and a more laid-back approach to cooking. The head chefs take the morning off and instead of haute couture cuisine, the likes of steaming bowls of creamy porridge with ladlefuls of dark cherry compote, feathery little pancakes fried in butter and splashed with lemon juice and piquant little shots of carrot and ginger soup served with tiny pastries stuffed with salty fish paste take centre stage.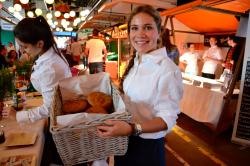 The banqueting table itself had even been transformed into a neverending buffet with a pantry's worth of jars filled with quinoa salad, bircher muesli and marinated feta studded with apricots (that may just have been the most delicious thing I tried all weekend). And that was just the side dish to the plates of muffins, cheese, sliced meat and piles of burnished rolls and loaves of every persuasion, from brioche to breadsticks, that decorated the table like a sort of beautiful edifice to gluttony.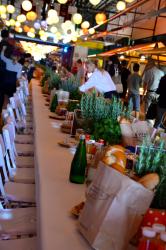 I'm not sure how I managed to heave myself back onto the tram and into the city, let alone how I managed to squeeze my body into the seat on the flight back after my three-day marathon of food, champagne and Swiss sunshine. The only thing I do know after my il Tavolo odyssey is that Zurich is setting itself up to be a real European foodie contender.
For more information on Switzerland visit www.MySwitzerland.com or call our Switzerland Travel Centre on the International freephone 00800 100 200 30 or e-mail, for information info.uk@myswitzerland.com; for packages, trains and air tickets sales@stc.co.uk.
SWISS offers up to 110 weekly flights from London Heathrow, London City, Birmingham and Manchester to Zurich. Fares start from £63 one-way* and 115 return*, including all airport taxes, one piece hold luggage and free ski carriage. (*Please note this is a leading fare and is subject to change, availability and may not be available on all flights. Terms and conditions apply.) For reservations call 0845 6010956 or visit: www.swiss.com