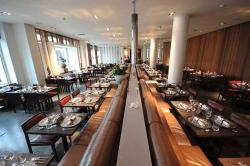 Mango Tree Belgravia is to launch a regional menu from 15th September showcasing the four core areas of Thailand; north, north-eastern, central and south. Combining fundamental flavourings – hot, spicy, mild and sweet – each region will be characterised by two distinct dishes to create a menu of Thailand's most celebrated landscapes and individual cultures. The traditional taste of Thailand menu will be available for a limited time of two months, until mid-November.
With eight dishes to choose from – four starters and four mains, the menu is a culinary journey designed to be shared. Choose from north-eastern snacking dish Sai Krok-Esian (sausage made of sticky rice, garlic and minced pork), as well as Nanbrik Ong (prawns, sweet and sour tomato dip, and fresh vegetables) from the north. Gai Tod Jai (marinated fried chicken), a popular dish in the southern province is also on the menu alongside central street-food inspired dish Kiew Kai Tod (deep fried quail egg parcels), served with a sweet chilli dipping sauce.
Fragrantly spiced main dishes from the four corners include Sea Bass Moke, a luxurious offering from the north-eastern region usually reserved for important guests and celebrations, and Khao Soi, a Burmese-influenced chicken noodle dish made with chilli, coriander, lime and red onion with creamy coconut milk to offset the heat. Migrating south, Kua Kling (curried chicken) is on the menu as well as Goong Plamuak Phong (stir-fried prawn and squid), a rich curry dish with a mild-blend of spices from Thailand's central region.
The traditional taste of Thailand menu will run from 15th September until 15th November. To book please email info@mangotree.org.uk or call 020 7823 1888.
Mango Tree, 6 Grosvenor Place, Belgravia SW1X 7EQ