19-21 Old Compton Street, Soho, W1D 5JJ www.sohokitchenandbar.co.uk.
Feeling a little left out, Tom heads to the Little Bao pop up at Soho Kitchen & Bar to see if baos are worth the bother…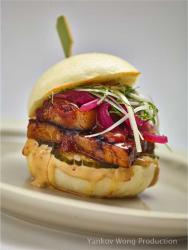 Until last night I had never had bao. There I said it. Let the collective London foodie world laugh at me. Let them mock me as they recount their trips to Bao in Soho, or their searches through the depths of Shoreditch to find the Jubo residency at Bedroom Bar.
I have no particular reason, I've just not got round to tucking into one. 
London continuously throws out new dishes, restaurants and menus and the truth is occasionally it takes me a while to catch up. Thankfully, on the bao front at least, last night I did.
For this week only (7th-13th September), the kitchens at Soho Kitchen & Bar have been taken over by Little Bao, a Hong Kong based restaurant that opened in 2013.
Owner and head chef May Chow has brought her burger-style baos and inventive sharing plates to Soho and so on a Monday night I tourist dodged my way there to try them.
Instagram had been full of pictures all day; the caramelised edges of a slice of pork belly poking out from a pale, fluffy looking bun, birds eye view shots of sweet green tea baos and'dish of the month' Brussels sprouts.
Yet upon arrival there were plenty of spare tables – maybe we've all finally had enough of no booking policies, or maybe it was just because it was Monday.
Menus are succinct, and I like simplicity. Three sections offer'For Sharing', "Baos' and'Sweet Ending', the grinning face of Little Bao's logo stares out from the middle of the page and, of course, there are a few catchy hashtags #whatyoutalkingbao #sohokitchenandbao
Unfortunately the heavily tweeted about Brussels sprouts had run out, and so had the'Mac & Cheese' described as'steamed rice rolls with mentaiko cheese sauce'. Still, major restaurant chains with hundreds of sites soft launch places for weeks to iron out kinks, this was day one for Little Bao in London and so I can overlook.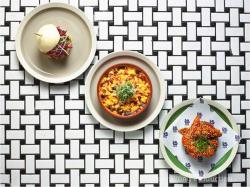 LB Fries came out first. They were dressed in mirin, a sugary rice-wine-type condiment, and Thai spices giving them an unbelievably moreish quality. A roasted tomato sambal gave hits of shrimp paste and, well, tomato, whilst Kewpie mayonnaise added to the authenticity of it all.
Next were the baos that I had unintentionally waited so many months for. A thick slice of pork belly was accompanied by shiso salad, sesame dressing and hoisin ketchup. The burger bun style bao surrounding it provided the spongy, light feel I had heard so much about. It was sweet, salty and I wanted more.
Thankfully I didn't have to wait long.
Sichuan fried chicken came with a Chinese black vinegar glaze, Sichuan mayonnaise and coleslaw. This, for me quite surprisingly, topped the pork belly version although not delivering quite the hit of flavour and spice I had expected. The chicken's crispy shell gave way to incredibly soft meat, perhaps brined before frying? I couldn't be sure.
Dessert choices were not huge but who needs choice when you've got ice cream baos? A green tea ice cream version packed serious flavour, whilst salted caramel provided the soothing salty sweetness expected.
And just like that my bao-virginity had been taken. There were no fireworks, no round of applause, I hadn't broke down in tears of joy or danced uncontrollably.
But I had had a really good meal, in a nice venue in Soho, with interesting dishes and decent service that, not including drinks, came to £24.50 for two of us.
Now that is something I'm happy to'talkabao'.
Little Bao will be at Soho Kitchen & Bar until the 17th September
Clucking for something a little more permanent? See how Nick got on at Ma'Plucker.