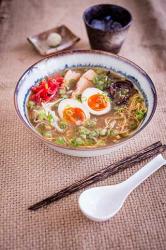 MasterChef champion Tim Anderson opens his Japanese soul food restaurant Nanban in Brixton on 28th September. This follows more than two years of Nanban operating as a pop-up and occasional street food venture, and arrives hot on the heels of the publication of Anderson's first cookbook, Nanban: Japanese Soul Food.
The premises are located at 426 Coldharbour Lane and was built in 1921 and originally operated as a pie and eel shop. Many of the building's original features will be restored, including an arched picture window on the first floor, as well as, brickwork, dark hardwood panelling, and a red and white terrazzo floor. Nanban will offer a mixture of bar, booth, and table seating, to suit the building's layout and the'ramen izakaya' menu.
The menu will combine the traditional southern Japanese food that Nanban has previously served at pop-ups with modern touches and a continuation of the Brixton-influenced dishes introduced last year during their residency at Market House. Though the menu will change frequently:
– Kumamoto Ramen: tonkotsu ramen with braised pork belly, fermented mustard greens, burnt garlic oil, garlic chips, tea-pickled egg, etc.
– Dead Ringer Chanpon: pork, chicken, and seafood broth ramen with stir-fried shellfish and vegetables, seafood sawdust, salted duck egg, etc.
– Curried Goat Tsukemen: dipping ramen with goat curry, tea-pickled egg, pickled Scotch bonnets, etc.
– Mojiko Yaki-Curry: vegetable curry on rice with melted cheese, onsen egg, and pickles
– Electric Eel: lightly breaded, deep-fried eel with lime-ginger sauce and sanshō pepper
– Ackee and Saltfish Korokke: Japanese-style potato croquettes with ackee and flaked salt cod
– Horumon-Yaki: twice-cooked pig tripe with garlic chives, bean sprouts, spicy miso sauce, and yuzu-pickled radish
Whippy-san (Japanese Mr Whippy) will also return for dessert and as much produce as possible will be sourced from Brixton Marke  like smoked crayfish powder, goat, English corn, and Scotch bonnets. Fuck Yuzu, Nanban's collaborative hot sauce produced by Mark'The Rib Man' Gevaux, will be on every table.
Nanban Brixton will be a combination izakaya and ramen shop.The drinks list will be focused on beer and shochu. Nanban Kanpai, the restaurant's own yuzu-orange-grapefruit wheat IPA produced by Pressure Drop, will lead a bottled and canned beer list mostly featuring British independent brewers along with some American, Belgian, German, and Japanese offerings.
Various shochu from Kyushu will be on offer. The classic'chu-hi' (shochu highball) will also be served, with a range of mixers including Ting, Old Jamaica ginger beer, and sodas from Square Root.  There will also be a range of sake, and a cold brew Japanese tea menu supplied by single-origin organic tea specialists Lalani & Co.
Nanban will open on 28th September 2015, with soft launches taking place on the 25th – 27th September.
Please follow @NanbanLondon on Twitter for more information and updates.