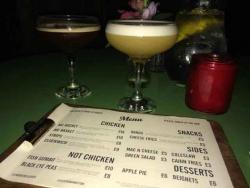 Mother Clucker seemed an apt name for us to try out a new residency on the "hipster" Broadway market in Hackney. K had already texted, "it's w*nkersville" to me, which I ignored, preferring to reserve judgment on the new conservatives.
Several years ago, the beards and frockgals had colonised this pie&mash&eel market. And despite my outward tutting, I quite liked the Vietnamese coffee it now sold from a rickety van. But imagine my horror to find Broadway Market becoming Clapham! The once cool Cat & Mutton pub now hosted rich Australian 20-something bankers and Great Gatsby parties. Bring back the hapless hipsters!
Luckily the faux chav chic – as K called it – was still alive at the Cat & Mutton in its embrace of Mother Clucker's posh junk food.
I've always liked the pub itself – ranged across three floors; old-fashioned with oak paneling and Chesterfields, and dark. Plus I love fried chicken, particularly the Colonel's hot wings and I'm not ashamed. So I was right at it.
Mother Clucker, who in their words are "experts in tea-brined, buttermilk soaked, fried deliciousness that has been keeping bellies full across the capital since 2013" normally serve from a converted US ambulance truck at the Truman Brewery near East London's Brick Lane. Since last week they've been doing a residency here.
They've customised their menu to the E8 clientele (though I don't see many punters from the American deep South milling around). Pub snacks include chicken wings and strips, cheese fries, the Cluckwitch (a brioche bun with fried chicken breasts, pickled peppers, iceberg lettuce, hot sauce and lime mayo) or the fish gumbo served over rice with grilled corn, and black-eyed peas and rice. They've done a few cocktails too such as a sherbet Fig Fizz 8 with fig liqueur, lemon and egg white, or a mint julep.
The bad side is you have to order food at the bar and on a Saturday night, this was rammed. I was 15 minutes up there among statures twice my height and half my age. However, once you've got their attention, the staff are nice and friendly.
What we'd say is that when you've got people drinking, fried chicken and chips is by far the best thing on the menu. The tea-brine and buttermilk must have done something as the meat was buttery soft. I couldn't help thinking "Findus" when I saw the batter – almost orange.
But K loved it and I liked it. The wings could have done with a bit more garlic and heat in my opinion but I guess they weren't called hotwings. The chicken in our McBucket seemed tastier though, perhaps helped by the splendid Malbec we were drinking. And the cheesy fries disappeared pretty sharpish.
We were a bit disappointed by the fish gumbo – not one of their strong points. While the barbequed prawns were good, they lacked depth of flavour or direction, despite the laudable inclusion of okra. The black-eyed peas and rice were slightly better but slathered in too much of what seemed like mango.
Like the gumbo, Mother Clucker the team was a little absent. Presence, guys! We'd never the know the bold Mother Cluckers existed; who were they? They stayed in the kitchen all night, slunk about – although were helpful when surfacing – then faded into the anaglypta. A bit of branding, as I assume that's what they're about, would definitely have helped. Luckily the beignets were bolshy as they come, big doughy, lemony donut stodges that went brilliantly with alcohol.
As we left, I noted some Chuck Berry being played, happy jiving, tipsiness (never to be seen in hipsters) and gasp – people in their 40s and I sighed in relief that some of the old world still lived on in this Hackney corner. That means louder mother clucker fried chicken, y'hear?