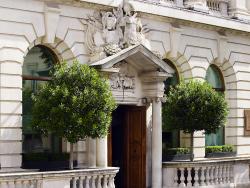 To commemorate the advent of spring and this year's Chelsea Flower Show, Sofitel London St James has unveiled a new floral-inspired Afternoon Tea, Le Tea en Rose, at the Rose Lounge.
To celebrate the 2015 Royal Horticultural Society Chelsea Flower Show, which takes place from 19 – 23 May, Sofitel London St James' Head Chef Vincent Menager has fashioned a limited edition selection of Parisienne delicacies, putting a Sofitel French twist on the quintessentially British pastime of'taking tea'. Floral-infused pastries and cakes, including poppy seed, hibiscus, mimosa, and the signature giant rose-scented macaroon, are some of the new culinary offerings on the fresh, floral menu.
Guests can enjoy specialist teas from the largest and oldest French teahouse, Dammann Frères, or for an added floral flair, an exclusive rose-flavoured cocktail,'La fleur en velours', will also be on offer, fusing flavours of Tanqueray gin, elderflower liqueur, wild strawberry liqueur, and topped with champagne as the perfect accompaniment.
A stone's throw away from some of London's most recognisable landmarks including Trafalgar Square and Piccadilly Circus, the Rose Lounge at Sofitel London St James is a decadent setting in which to experience this specially themed Afternoon Tea. The décor is soft and intimate with Parisian elegance in mind, and complemented by stunning, fragrant fresh rose arrangements. A true indoor'secret garden' sanctuary in the heart of London, the Rose Lounge also entertains its guests with the gentle melody of a live harpist.
The Rose Lounge at Sofitel London St James will be serving Le Tea en Rose daily between 12pm – 6pm, throughout May 2015. Prices for the Chelsea Flower Show Afternoon Tea start from £30.
For more information on St James Bar or Sofitel London St James, please visit www.sofitelstjames.com.
The Rose Lounge at Sofitel London