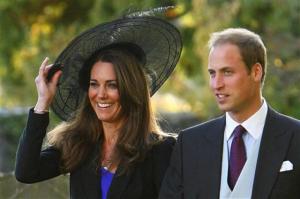 The cat's out of the bag. Prince William and Kate Middleton are finally engaged and speculation reigns about the forthcoming nuptials. While we all love a good royal knees-up, here at Foodepedia HQ we're not really interested in where it will take place, who will design the dress, or whether Carole will kickstart the conga – all we want to know is what will be on the menu.
The biggest royal wedding since Charles and Diana, the wedding of William and Kate is already being hailed as a recession-busting, job-creating, happy-making antidote to what has been for many months a gloom and doom ridden Great Britain. No pressure then, kids.
The Middletons being party planners by trade I'm sure it'll end up a right classy do but what, exactly, can HRH and their esteemed guests expect to feast on post kissy pics on the balcony?
With vintage in vogue, the happy couple might look to Wills' great-great-great-great grandmother for inspiration.
Queen Victoria's wedding to Prince Albert in 1840 took place at The Chapel Royal in St. James's Palace with a reception at Buckingham Palace. The trend-setting bride wore white – a radical alternative to the usual coloured wedding gowns – and a headdress of orange blossoms, which she also carried in her bouquet with sprigs of homegrown myrtle.
While details of the wedding breakfast are scant, we can assume an elaborate menu of at least 10 courses, written in French as is the royal banqueting custom, and promising such gastronomic delights as cod with oyster sauce, roast leg of lamb, ballotines of duck with Cumberland sauce, pheasant with potato ribbons, pastries with fruit and chocolate profiteroles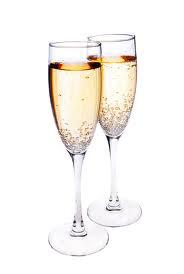 It took five proposals before Lady Elizabeth Bowes-Lyon (the Queen Mother) agreed to wed 'Bertie', Duke of York and the future King George VI. Coy and reticent or high maintenance, you decide. Her choice of wedding breakfast might hint at the latter. The ceremony at Westminster Abbey in 1923 was followed by a sumptuous wedding breakfast, regal by both name and nature, which included Consommé à la Windsor, Suprèmes de Saumon Reine Mary, Côtelettes d'Agneau Prince Albert, Chapons à la Strathmore, and Fraises Duchesse Elizabeth.
Several ornately decorated wedding cakes were created for the occasion, with the nine-foot high, 800-pound centre piece supplied by McVitie and Price, of HobNobs fame. It is not known whether there was a gin and Dubonnet free bar.
The post-war nuptials of the 21-year-old Princess Elizabeth to Lieutenant Philip Mountbatten in 1947 were a jubilant affair. Taking her mother's lead, our future queen wed her first and only love in Westminster Abbey, wearing a dress of ivory duchesse satin and carrying a bouquet of mwhite orchids with a sprig of myrtle grown from the very same cuttings in Queen Victoria's bouquet.
The wedding breakfast was held in the Ball Supper Room at Buckingham Palace, an homage of courses commencing with Filet de Sole Mountbatten, then Perdreau en Casserole (braised partridge) and finally Bombe Glacée Princess Elizabeth.
We can pretty much expect the same high levels of hype and hysteria to surround William and Kate's big day as did his ma and pa's back in 1981. Almost every aspect of the Prince of Wales' marriage to Lady Diana Spencer was up for public consumption and greedily devoured, from her crinkle-crunch designer dress to her 23-inch waist measurement.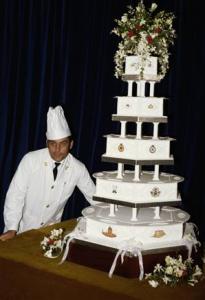 After the ceremony in St. Paul's Cathedral came the famous balcony kiss at Buckingham Palace and a traditional royal wedding breakfast for just 120 family members and friends. Dishes included brill in lobster sauce, chicken breasts garnished with lamb mousse and strawberries with Cornish cream all served on golden plates and washed down with finest claret and port.
The groom's ceremonial sword was then used to cut the first slice of a five-tiered wedding cake adorned with emblems from his Naval days, sugar doves, and a confection of roses, lilies of the valley, fuchsias and orchids accenting an ornamental 'C' and 'D'.
A depressed economy we may well have but the Wales are unlikely to stint on the good stuff in the summer of 2011.
With scallop bowls, Global knives and two pairs of salt and pepper mills – a snip at £519.80 – on their 2009 wedding list, one might have assumed that Lord Freddie Windsor and his bride, actress Sophie Winkleman, were a pair of serious foodies. But, working with a purportedly modest budget (in royal terms) of £40,000, they forewent a lavish spread in favour of Champagne and canapes, followed later by a buffet and dancing at the home of the groom's godmother, Lady Annabel Goldsmith. Freddie's mum and bon viveur, Princess Michael of Kent, was not, as they say, amused.
So long as it's not NAAFI rations, a hint of austerity won't go amiss but really, would anyone resent this love match a blow-out wedding breakfast when all the world's eyes will be feasting upon us? We all know how important it is to put on a good spread.