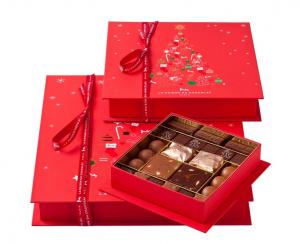 La Maison Du Chocolat recently launched their Christmas range at Texture, the Michelin starred restaurant in London's Portman Street, W1. The lunch comprised of two excellent courses, I had a starter of 'Graflax', made with organic Scottish salmon and mains of Gressingham duck, after which we moved on to dessert, a veritable feast of La Maison Du Chocolat goodies.
The first in this parade of the La Maison Du Chocolat creations was a chocolate éclair filled with a beautiful chocolate cream and topped by a lovely rich chocolate icing and a caramel éclair filed with a great bitter-sweet caramel cream and topped with an excellent caramel icing. These were followed by small tubs of La Maison Du Chocolat ice cream, an intense exotic fruits smooth sorbet and a velvety, deep chocolate ice cream, then followed chocolate and vanilla macarons, each crumbly set of shells filled with a beautifully gooey rich ganache filling. Finally, perhaps the star of the show, the La Maison Du Chocolat 'Magic of Christmas' gift box to dip into. This was quite some way to introduce me and some other foodie scribes to their range of excellent products.
We were told that the theme of this year's Christmas range takes its inspiration from New York, as it's 20 years since the first La Maison Du Chocolat shop opened there. The 'Magic of Christmas' gift box is a vibrant red decorated with a Christmas tree fashioned on the one that stands luxuriantly in front of the Rockerfeller Center in Manhattan each year. As the box was opened at the table the beautifully presented array of chocolates was revealed. This included squares of milk and dark chocolate containing chunky nuts and fruit, Marrons Glaces wrapped in gold foil, and a good range of different flavoured ganache-filled chocolates and bon-bons. I tried several, who wouldn't?
The La Maison Du Chocolat range is intensely flavoured, for example the Chiberta has its milk chocolate casing filled with a beautiful mousse infused with orange and lemon zest, and has big citrus flavours in the divinely smooth chocolate filling. The Zagora similarly has good mint and chocolate ganache centre. The Caracas is intensely chocolate and deliciously smooth on the tongue. The Anastasia has a great hazelnut praline layer with the milk chocolate ganache and the Figaro Noir a dark chocolate praline has lovely toasted almond and hazelnut pieces in its ganache centre. But, however the centre is filled or flavoured, the chocolate is very much the main feature.
La Maison Du Chocolat are definitely producing some divine creations, I am told that all of their chocolates are produced in their small 'factory' just beyond La Défense, outside the centre of Paris, and are shipped to many countries throughout the world. While their outlets are in London, the main one in Piccadilly, there are also concessions in Harrods and Selfridges, La Maison Du Chocolat products can also be ordered on line with guaranteed next day delivery anywhere in the country. So access to London is not a hindrance.
These top quality chocolates would make excellent gifts at Christmas time or for any special occasion really. However, one thing to be aware of is that they do have a limited shelf life, ideally they should be eaten within a month of purchase, so you might want to factor this into the timing of any purchase or order that you make.
You can find out about the complete La Maison Du Chocolat range by clicking on the link below.