The Basement Bar and Restaurant, 10-12 Broughton Street, Edinburgh, EH1 3RJ www.thebasement.org.uk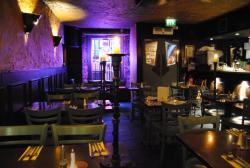 What a delightful refuge on a chilly November evening in Edinburgh. It's not difficult to see why The Basement Bar and Restaurant has a loyal following – it ticks a load of boxes. Firstly, it achieves something that many establishments fail to master – a relaxed, friendly and welcoming buzz in both bar and restaurant which, within a very short time makes you feel as if you have been coming here for years with none of those uncomfortable moments that can all too quickly take the edge off a good night out. And great value to boot.
The below stairs experience can sometimes be a little gloomy – dingy even, but not so here. The warm sand-coloured walls, candlelight combined with subtle up-lighters and the rustic furniture create the kind of contentment that makes it hard to leave and easy to return to. It was a Tuesday night and the place was almost full; book ahead to save disappointment. I understand the weekends are all go from morning to night, the menu combining the regular weekday food with some Mexican favourites and the website suggests 'you should find something to cure that hangover somewhere!" – sounds like you could while away quite a few hours in a state of bliss!
The staff were charming and attentive from the moment we arrived, ensuring that we were fed, watered and up-to-speed with the chef's specials. They were also clearly comfortable with the menu, answering our queries with relaxed and confident enthusiasm.
We opted for a bottle of the house white, a delightfully crisp, perfectly chilled French Fete Blanc at £12.95 – a welcome departure from the overly-priced, not-quite-properly-chilled whites on offer in so many bars and restaurants. The girl behind the bar was a little loathed to give us a 'taster' which could have developed into a couple of eyebrows raised but a smile worked (if a wine is available by the glass, this should never be an issue in my book). Whilst sipping at the bar, we studied the drinks menu – a creative selection of wines, beers, spirits, liqueurs and cocktails. If Tequila is your poison of choice, bag yourself a cozy corner in the bar and put the rest of your life on hold. Tequila plays a large part in the life of The Basement and I imagine the tasting panel have had many fun nights ensuring there is something for every enthusiast! And, as for the cocktails. I may have to clear a day in my diary to experience a 'Butterkist Gumbo' or a 'Cuban Missile Crisis' not to mention the 'dessert cocktails' – vodka-based cocktails that taste like puddings? Tempting!
But onto the food. The Basement is one of those places where you want to hover in the kitchen and taste everything that hits the pass. As you clock every dish heading for nearby tables it is easy to dither and even harder not to trawl the other tables asking for a forkful as it all looks so good. First thing you notice are the generous portion sizes, quickly followed by the delightful presentation – a good combo.
For starters we chose the Stornaway Black Pudding and Goats Cheese Salad with Basil and Balsamic and the Mussels Steamed in a Bouillabaisse Sauce with King Prawns and Grey Mullet. They both had the X factor visually, were generous almost to the extreme and we both went quiet as we dived in – always a good sign. If you are a black pudding-aholic you will love the former. Crispy outer edge, unctuous within and topped with a slice of creamy, silky goats cheese at just the right warmness – all melty atop a bed of fresh green leaves, generously drizzled with sweet, caramely balsamic – a definite winner. The mussels were big, sweet, plump and steamed to perfection. The addition of the fish fillets and the tiger prawns in a light but intensely-tasty bouillabaisse with a chunky slice of rustic bread to dunk gives this dish a definite edge over your classic marinière, often badly executed. We could have gone home with a warm, fuzzy feeling after the starters, but we were on a mission!
There was one portion of the chef's special, Beef Stroganoff left up for grabs so we went for it and it was hard to resist the opportunity to try a beer-battered sea bass rather than the usual cod, haddock or pollock, so we ordered the Grolsch Battered Sea Bass with Sautéed Potatoes and Tartare Sauce. The stroganoff sauce was deep, rich and meaty and with the fluffy, white rice made for copious forks full of deliciousness. The beef was perhaps a tiny bit tough but as it was the last portion of the day some of the moisture in the meat may have been released into the sauce – a small complaint. And, as for the fish and chips alternative, sea bass works. Some may think it doesn't lend itself to being battered, but the lightness of the batter, the crispness of the sauté potatoes and the generous salad accompaniment makes it easy to understand why this has become a favourite in Broughton Street.
We couldn't manage dessert – we were well-satisfied and happy. But, as we watched large slabs of Banoffi Pie, bowls of Sticky Toffee Pudding and sumptuous, locally-produced Italian ice cream passing by we determined to return for a feast of cocktails, coffee and desserts very soon. Happy days to follow!
NOTE FROM THE NUTRITIONIST (that's me!)
If you are watching your waistline The Basement needn't be regarded as an over-indulgent experience. Stick with the dry white/rose wines or champagne, make sure you have plenty of the local tap, say 'no" to starchy carbohydrates and savour the flavours of the meaty and fishy dishes and great salads on offer. You won't go hungry – this kitchen aims to ensure you leave full AND full of goodness!