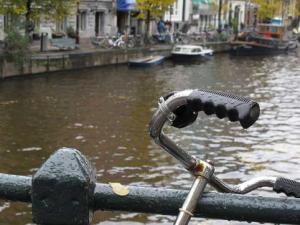 Ah Amsterdam, scene of so many youthful indiscretions. On my first visit, when I was 19, I lay awake in my cheap hotel at 4 a.m. while next door, voices piercing through the cardboard walls, a party of Australians loudly recounted their adventures that evening. What with the red light district and the legal dope, they'd had a pretty good time. Ah well, didn't we all?
I've been back many times and, as I got older, I appreciated the charms of Amsterdam more and more, its quiet canals, the beautiful houses, the people on bikes and the many museums and galleries. The legal sex shops and the cannabis cafes are still there, the latter still clinging to Bob Marley and a 70's vibe. Today they are just a small facet of this fascinating city that's so close to London that the flight over took less time than the tube from Brixton to Oxford Circus.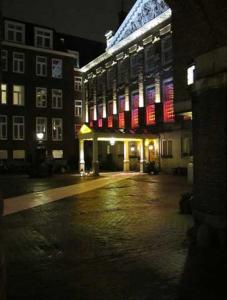 Over the years I've gradually stayed in better and better hotels in the city, but nothing to touch the Sofitel Legend The Grand. Occupying a very large patch of dry land in the best part of the city for tourism, the Grand is an ancient building that was once home to Dutch royalty, then the local government and now is one of Sofitel's most prestigious properties.
The pampering starts as soon as you roll into in the large courtyard, itself a rarity in a city not given to wasting space. The impressive entrance gives way to a reception that is calm and highly art-directed and the staff move swiftly to make you welcome. Tonight is a big night as it's the final night of Sofitel Stars Food and Art and big names are coming to pay a big price for the meal, a substantial part of which will go to the 'Together in Amsterdam' project of the Netherlands Red Cross, Amsterdam.
Rooms come in various sizes at the Grand. My Junior Suite is larger than many London flats so who knows what the Senior holds? It has a big bathroom and, a real novelty this, two loos – one in the bathroom and another a stately throne in its own space around the corner. There are no less than three TVs dotted around the suite – one built into the bathroom wall – and a Bose CD player for suite-filling sound. It's luxury writ large right down to his and her's basins.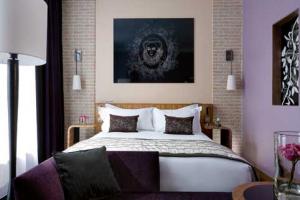 There's barely time to drink it all in before heading off the pre-dinner reception, but I do get time to drink my complimentary bottle of wine and eat too many of the candied fruits lying temptingly about. It's into the black tie and downstairs, although I can't resist quickly popping over the footbridge to stick my nose in the cannabis café across the water. Yes it still smells and looks the same and I think the bloke in the corner was there twenty years ago, he looks like a fixture.
Rain is coming down in ropes by the time, fuelled by excellent canapes, we cross the courtyard and up to the grand old council chamber, the setting for tonight's dinner. Fortunately knowing the local climate well, the hotel has more umbrellas than The Penguin and the décolleté ladies are safe from a drenching as staff studiously escort them in.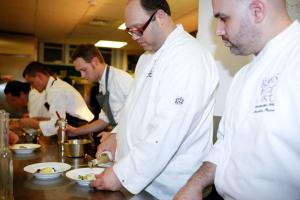 Sofitel Stars and Bars is a simple concept, fiendishly difficult to organise but culinary journalist and author Lise Goeman Borgesius Timmer manages it- 12 Michelin 2 Star chefs a night cook one signature course each for a room of over 100 guests, offering a chance to sample what the best in Europe have to offer. Getting the chefs all together must be hard enough, but then they also have to work in a strange kitchen where they are among equals and can't be prima donnas. To do the dishes well requires military precision and on the monitors showing the action each chef can be seen assembling his Michelin production line as each course prepares to be served.
The room has kept the original long high table and enormous chairs where the mayor and councillors once parked their civic behinds and it's rather reminiscent of eating in college at Cambridge, except the big chairs remain unfilled almost as if we are being watched over by the ghosts of the past. The walls are rippled with carved wood and symbolic scenes and the tables are laid with giant menus, each dish signed by its chef. The starting pistol is raised and we're away.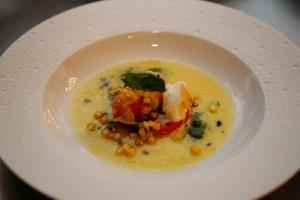 Andreas Mayer of Mayer's Zelf am See kicks off with a red pepper timbale with lobster, aubergine and a Parmesan ice cream. The sweetness of the pepper and lobster accentuate each other, the Parmesan ice cream is an umami kick between mouthfuls.
The menu calls the next dish a blend of foie gras biologique marinated in Pinot Gris and aigre doux. Biologique means Organic, which sounds much nicer. Whether an organically raised foie is less likely to enrage an animal rights activist is hard to say. The foie is superb, but then it always is and the sour sweet dusting matches the foie's richness and evens it out. A great dish from Erik van Loo of Parkheuvel, Rotterdam
Simpler ingredients carefully sourced and put together make Thomas Buhner of La Vie Osnabruck's dish quietly triumphant. Cod confited in superb olive oil with a vivid pesto sauce, some bacon and beans. It could be off the simplest restaurant menu but Buhner is noted for his ways with aroma and texture. It works so well it makes you long to try his entire menu.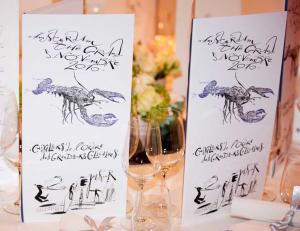 And so it rolls on, with sea bream fillet seared on a hot plate having been marinated in tomatoes and oysters and served with pasta cooked in shellfish broth and with slices of Iberica chorizo. White fish and chorizo never fails to work and here Christophe Bacquie of Le Monte Christo, Castellet has raised it to star status.
A big dish to finish with veal steamed over barbeque to infuse it with fine smoky flavours, a filet of veal roasted and veal kidneys cooked in a Dutch style with carrots and onions. It's rich and it's the short straw for Lucas Rive of De Bokkerdoorns, Overveen because as a Dutch chef he gets to do the main dish but, of course we are all a bit stuffed by now and perhaps not as appreciative as we might be. It's still very good, of course.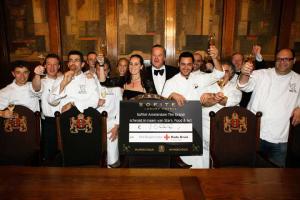 With Paul van de Bunt from De Leuf, Ubachsberg's Orange, carrot, apricot, Campari and almond dessert served with a late harvest Canta Vida from Chile we come to a zesty end to a superb meal.
All the way through we were entertained by Astrid Peter Santa and his string orchestra – which included two Stradivarius violins while Gert van de Vijver performed sand painting, which if you've never seen before will surprise you. My favourite bit though was opera singer Moschi Franz concluding the evening in a fitting manner with the Amsterdam folk song "Aan de Amsterdamse grachten" (On the Canals of Amsterdam). To see and hear the massed guests all singing this well-loved song together so strongly and happily was to see the true point of the evening, a real celebration of food.
The last Stars Food and Art from Sofitel and another triumph, with a whacking E15,000 going to The Amsterdam Red Cross. Next year they will be doing it again and I shall be saving up to make sure I am so there.
Sofitel Legend The Grand Amsterdam, Oudezijds Voorburgwal 197 1012 EX Amsterdam www.thegrand.nl