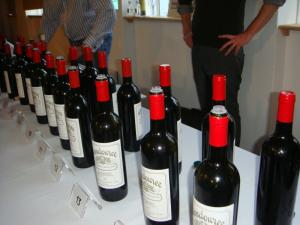 Findwine, an online wine suppliers set up operations about a year ago. Their site has a helpful matrix, which they call the wine selector, that helps the potential customer choose the wines they might want buy the food that they are planning to eat, the country in which the wine has been produced, the style and by price. At any one time they plan to feature no more than 54 wines on site, ranging upwards from the £5 mark. Their selection is sourced in 'small parcels' with a view to continuing to find new and interesting wines. That's not to say that if you have a favourite that has fallen off the wine selector that they wouldn't have any stocks left, it's quite possible that they would and I am told there is a search facility that allows customers to see whether there are stocks of a wine that they have previously enjoyed.
I was recently invited by the team at Findwine to a tasting where they were showcasing their wines from the Wendouree vineyard. I understand that purchasing wines from this vineyard is extremely difficult; their wines are normally sold only to private purchasers in small amounts, but somehow the people at Findwine have managed to get stocks of some fifteen Wendouree wines in varying quantities. It has to be said from the outset that the Wendouree wines are not cheap, as you might imagine from the exclusive way that they are sold and as a consequence of that demand for them is high. The prices of the Wendouree wines on show at this tasting ranged between £45 and £100 a bottle. I tasted each of them, as you might imagine.
Of the Wendouree wines I tasted the Shiraz – Mataro 1989 had good red fruit flavours, some peppery heat with medium tannins and good length on the palate from this medium bodied wine that would retail for £100. The 2002 gave me cherries as well as strawberry and raspberry, with some acidity, again with medium tannins and good length, but with slightly less body and the price tag for this little number was £60. The Shiraz – Malbec 2001 had a boldly fruity bouquet and good black fruits on the palate, some acidity and a peppery edge with low tannins and nice length. The Cabernet Sauvignon 1992 had a big fruity nose and bold blackcurrant flavours coming through on the palate with quite a tannic edge to it and would retail at £100. Clearly all of these wines would have been softened by some meats or cheeses, they each have fine flavours and paired with the right dish they undoubtedly would be superb.
There were also some 20 or more wines from their other ranges, I was particularly taken with Finch's Line Shiraz 2006, it had big forest fruit flavours some pepperiness and a sweetness to this medium bodied wine. There were some tannins and a good length to it, well priced at £16 a bottle, in my view. Another wine that I was surprised by was the cheapest at the tasting, the Opportunist Sauvignon – Reisling which had vibrantly fresh grassiness and green fruits in its bouquet. On the palate there was a good acidity and tingle on the tongue, with big green fruit, citrus and kiwi flavours bouncing around the mouth and this priced only at £6 a bottle, amazingly good value, I thought. And finally the Two Hands Shiraz: Bella's Garden was another very fruity red, I got strawberry, blackcurrant and blackberry, some acidity, pepper and some tannic edge to it, with a nice finish. This was priced at £30, but definitely another very good wine.
Take a look at the Findwine site, it's worth exploring, you might find some little treasures as you do. Their minimum order is six bottles, but I'm told that their delivery charge is the same regardless of the quantity you buy, within reason.