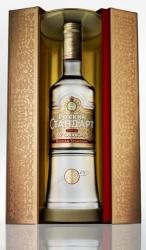 Revealing itself like one of Tsarina Alexandra's glamorous Fabergé eggs from its rather theatrical (if not to say OTT) presentation case, a bottle of Russian Standard Gold Vodka cannot be described as a'shrinking violet' in the spirits marketplace.
It's huge in Russia, huge in Europe, in fact Russian Standard is huge everywhere, and the'Gold' is the luxury flagship for those who really want their vodka to taste, well, like vodka.
This St.Petersburg distilled classic 'prides itself on its ingredients, using the finest winter wheat from the southern steppes and the softest and purest glacial waters from Lake Ladoga'.
Premium vodka it may be but can you taste the difference?  Does the Russian winter wheat and Siberian ginseng give depth; does the pure glacial water and charcoal filtration add clarity?
Repeated snifters imbibed by Foodepedia's own quality control team have resulted in an affirmative response with heads nodding with increasing degrees of amplitude.
In fact the manufacturer's claims regarding taste profile are remarkably accurate: "Almond and Vanilla" check;  "Bitter Caramel" check; "Cinnamon and Clove" check; Russian Standard Gold really does taste good on its own.
However, it's in the potential for concoctions and cocktails that this vodka really comes into its own, the texture and aroma of the Russian Gold being well suited to mixing.
My own'summer evening' tastes run to a generous shot in a fresh fruit smoothy of choice.
Though the embossed-gold presentation case may be a little assertive to those with delicate artistic sensibilities, it's hard to resist the temptation to pop the 'Royal' bottle back into its little gilded palace after each use.
Russian Standard Gold is widely available in supermarkets and off licenses, as well as Selfridges and Harrods. RRP £20 (70cl). www.russianstandardgold.com