91 – 93 Great Eastern Street, EC2A 3HZ floripalondon.com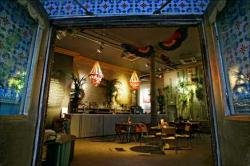 I didn't realise Floripa was at the site of the former Favela Chic, on the corner spot of Great Eastern Street, until I arrived. I've danced off a few drinks at the former in my time, but never imagined it as a place to eat.
Floripa is more of a revamp than a complete about-turn – there's the same huge indoor area with a long bar and ample space for dancing and a stage, but Floripa is shouting louder about its food: there is a snug for diners in the far corner as well as tables on the paved area outside.
Floripa aims to recreate the atmosphere of the Brazilian island it is named after, a sort of Balearic/carnival hybrid, and we're lucky enough to be able to sit outside in the sun on a lazy Sunday late afternoon. Music is the biggest draw here. On the roster is a busy selection of DJs and musicians playing everything from funk, soul and bossa to jazz and contemporary dance of all persuasions. Wednesdays, Jam Tart, are open mic jam sessions, then there are DJs over the weekend.
Come Sunday afternoons there is Jazz, and a slap up Sunday roast, Brazilian-style, seems a good way to enjoy it. The only problem is that Floripa is so big that when it's not busy and there are no bodies to soak up the sound, the volume is overwhelming, and certainly not suited to a relaxed Sunday.
From outside we can still hear the music even if we can't see the musicians. Chef David Yorkston has made an admirable effort to provide authentic flavours of Brazil in a UK context, with some local twists and ingredients. The Sunday Roast menu is £14 for one course, £18 for two and £22 for three. The favoured cut in Brazil is the'picanha', a beautifully fatty triangular cut from the rump, which became popular in the 1960's and has been the prized dish at any churrascaria since.
At Floripa this cut is fashioned to resemble a typical English roast. It is juicy, if slightly overdone, but I would have preferred thicker slices to really taste the chargrilled outside, and the Yorkshire pud and glut of gravy seem slightly incongruous. The alternatives are half a roast chicken stuffed with chipotle, coriander and coconut and garlic butter and a vegetable and brazil nut roast.
The sides are good: roast potatoes with crunch and a sweet potato mash rather than the cassava eaten all over Brazil. Cassava's earthy taste and slightly sticky and chewy consistency, often cooked with plenty of salt, is what marks a meal out as tasting truly Brazilian. So while I applaud the attempt to consider food miles, it would have been nice to see some here.
To start we had kibbe, which are meatballs made with bulgur wheat, cumin and a touch of chilli, and fava bean dip served with flatbread and baby gem lettuce. The portions are hangover-sized, which is just as well given the time we had to wait for them: the food itself came quickly, getting hold of a menu, a drink and someone to take your food order whilst sat outside was a challenge. Both are simple and tasty.
The desserts are tempting – spiced rice pudding with baked fig & honey, Valrhona brownie – but we're stuffed. With the perspective that a Sunday roast is meant as a filling meal of comfort food, Floripa succeeds, and it's a change from your local pub. I'm just not sure that the soporific aftermath of gluttony goes well with really loud music and dancing.