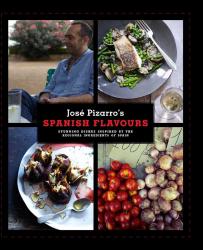 José Pizarro was a forerunner in popularising Spanish food in London and in the UK. Today, if you do a little homework, it is easy to find a better-than-decent tapas joint or a shop selling Spanish foods, but this wasn't always the case, far from it.
Much of the UK was blithely unaware of the subtleties and regional variations of Spanish cuisine before Pizarro arrived here. Indeed, much of it still is. Thankfully, Pizarro brought a fresh and energetic approach to his national cuisine and has invigorated its presence in the UK.
Tapas Brindisa at Borough Market, where he was chef partner for nearly five years, provoked crowds of gourmands to fall for Spanish food. I was certainly one of them, and would introduce new fans to the packed out bar on the corner of the famous market as often as possible. I wept over its lamb cutlets and black rice with squid and alioli  – literally, as I broke a spell of vegetarianism for their pleasures.
Brindisa expanded, to Soho and South Kensington, and will very soon open in Shoreditch (in August), and Piza moved on to the allure of newly fashionable Bermondsey High Street, opening two eponymous places there last year: the incomparable corner tapas bar José and the more formal sit-downy affair Pizarro.
Right now, the focus is on his new book, José Pizarro's Spanish Flavours (Kyle Books, £19.99). His first book, Seasonal Spanish Food, was published in 2010. When eating with the seasons was already in fashion in the UK, Pizarro pointed out that it had never fallen out of favour in Spain. Spanish Flavours, subtitled'Stunning dishes inspired by the regional ingredients of Spain', takes us on a gastronomic tour of the country, with the end effect of revealing why certain dishes firmly belong to their regions.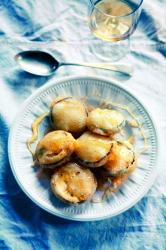 Spain is such a big country, and so geographically and climatically diverse, not to mention linguistically and politically, that the catch-all'Spanish food' explains little. Once you come round to thinking about the terrain of each region and which migrants have passed through there on their way around the globe, and perhaps stayed, and its relative wealth or poverty, the peculiarities of each area make more sense.
The book is split into North, East, Centre, South and the Islands. Pizarro confesses to favouring the north, which stretches from the north-westerly tip of Galicia through Asturias, Cantabria, the Basque Country, Rioja and Navarra. These areas are fertile and by the sea, with fishing and farming the main industries. Great seafood is plentiful as well as cheese, salted pork, many vegetables and the comforting flavours of chestnuts and cider. The traditional dishes are simple and hearty, but with Pizarro's vision they become artichoke, asparagus and fennel salad with crab mayonnaise, crab and prawn croquetas, carpaccio of veal with baby broad beans and lemon and orange-scented apple bunuelos.
The first recipe I try is the griddled scallops with cauliflower purée and chorizo oil. This is a dish you can only mess up by overcooking the scallops, and the sweet shellfish sit well with the rich, earthy cauliflower and spicy sausage. Pizarro is happy to admit that this is not a traditional dish, rather his own invention with the region's produce
As he has been in London for many years now, he is also happy to let British tastes influence some of his cooking. There is a recipe for fresh cod with broad bean and mint purée, a nod to our own fish, chips and mushy peas. He matches Cox and Braeburn compotes with the blue cheese Cabrales, which is made in Asturias. The Spaniards love their eggs, but rarely poach them, but here poached eggs float on a flavoursome pillow of olive oil mash and truffle butter.
Pork is popular all over Spain, but it is the central region where the best conditions for Ibérico pigs to graze, in cork oak forests, are found, producing the meltingly tender jamón on Pizarro's menus. In these land-locked areas there is more game, turned here into venison, red wine and chestnut stew, confit of pheasant with sautéed red cabbage, raisins and pine nuts, and griddled marinated quail with lentil, chorizo and garlic stew, along with sweet and rich desserts such as walnut and orange blossom honey tart.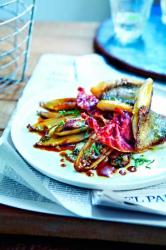 The dish that has already become one of my regular favourites, despite this poor summer, is a chilled soup. Not quite gazpacho, but'salmorejo-style' tomato soup with hard-boiled eggs, olives and crisp-fried ham. A blend of ripe tomatoes, bread and oil, with garlic and sherry vinegar, it is very simple to make and the garnish transforms a soup into a filling light meal.
Crucially, in a time when cookbooks are treasures to look at, coo over and stroke, this is an attractive production. The photography, by Emma Lee, tells a story of Pizarro's travels around Spain, of the people producing the food and the shops and bars satisfying their customers with a fresh cheese or a wide variety of mushrooms, and there are photographs of almost all of the recipes. The images are muted and retro in tone – instagrammy – which lends a warm homeliness to the dishes; they're certainly something you believe you can recreate at home rather than precise and showy restaurant affairs.
A tapa appears here and there: the croquetas, and flamenquin –'small flamenco dancer' – veal, cheese and ham fried rolls. Perhaps the only negative aspect of the popularity of Spanish food in the UK is the avidity with which every other cuisine busies itself trying to jump on the tapas bandwagon – but if that's the trade off for getting Pizarro's cooking and recipes on these shores, I'll gladly accept it.
Images Emma Lee
{ISBN:0857830260}