When I were a mere scrap of a lass, many family occasions were heralded by the plonking on the table of a large vat of a spicy, beefy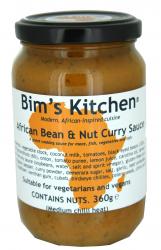 elixir, whose flavour was largely dependent on large dollops of peanut butter. This, ostensibly, was an'African' curry, and we ate it accompanied with white rice, sprinkled liberally with the contents of myriad small wooden bowls- tinned pineapple chunks, sliced banana, raisins, salted nuts, chopped apple…. The authenticity may have been in dispute, but never, ever, the sheer deliciousness.
But, a few centuries later, with the twist of a screw cap, it seems our celebratory dinners were more akin to'real' African flavours than we ever expected. Bim's Kitchen aims to deliver authentic, home-style sauces and condiments and, with a raft of Good Taste Awards to the name, seems to be making a pretty decent fist of it. Bim's'Bean and Nut' curry sauce may use roasted groundnuts rather than peanut butter, but saucing up some beef it was a dead ringer for my childhood family favourite. Rich and smooth from alligator pear, refreshingly non-oily, even lacking that unpleasant whiff of'ambient product'.
The'Chickpea and Melon Seed' sauce ignited similar levels of ardour. Pairing like with like, this sauce made a debut in a dish of tiny kala channa- so-called'black' chickpeas, the oh-so-more-flavoursome counterparts of those large pale beige numbers. The inclusion of the melon seeds may seem surprising,'til you consider they share a family tree with pumpkins, the seeds from which are best known as the health food nut's drug of choice. And what would that luscious Indian sweetie, gajar halwa, be without a sprinkling of that mix of tiny seeds known as'char magaz'?
Being a fan of Gurpareet Bains' medicinal use of ingredients, the Baobab Pepper Jam appealed from the off. More so once I opened the jar and, in one smooth manoeuvre, deployed a fingertip full mouthwards. Swiftly followed by a whacking great spoonful. The remainder found its way onto cheese on toast, served as a fruity glaze for gammon, and made for a pretty tasty fruit chaat. The'African super-fruit' makes for a most excellent, versatile condiment with an unusual,'spiced-but-not-hot-spicy' flavour. Tastes good, looks good, and,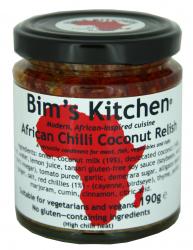 I'm betting, by Jove, does you good, too.
Pickles and chutneys are often a sickly, gloopy bunch, more suited to oozing sweetly from a Swiss roll than piquing the appetite. Bim's  Coconut and Chilli Relish is having none of that- announcing itself as a toothsome condiment, high on flavour and texture, with a pleasingly hot prickle. Good tossed with diminutive prawns in a sambal, as a hot dressing for green beans and chunks of paneer, or even an intriguing topping for bitter chocolate ice cream. In Britain we're always banging on about Africa Pride- and, employing a triumvirate of tradition, innovation and sheer love to spectacular effect, Bim's Kitchen is the embodiment of just that.
For more on the range and to order online, visit http://www.bimskitchen.com