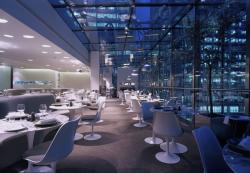 To mark the end of their Best of British festival, Plateau is hosting a special charity dinner in support of the IDCF, a Tower Hamlets charity which aids disadvantaged communities in the borough.   Taking place on September the 17th, the one-off occasion will see Plateau head chef Alan Pickett joined in the kitchen by a trio of some of Britain's finest culinary experts. 
The four course dinner will see each dish cooked by a different chef, showcasing their individual style.  Along with Alan Pickett, making up the fantastic four will be Phil Thompson (Auberge de Lac, one Michelin star), Chris Eden (Driftwood Hotel, one Michelin star) and Paul Foster (Tuddenham Mill, Observer Food Monthly Young Chef of the Year 2011, Great British Menu 2012).  On the starter will be Paul Foster who will be serving Poached parsnip, egg yolk, baked oats, grapefruit and sea purslane. The fish course of Cornish crab salad and brown crab mayonnaise with pink grapefruit and apple will be cooked by Chris Eden.  As the head chef, Alan Pickett will be cooking the main course of Roast cutlets of Colne Valley lamb with smoked aubergine puree, braised sweetbreads and buttered carrots. 
Last but certainly not least, the decadent dessert of Blackberry arctic roll, marinated blackberries and vanilla and shortbread crumble will be cooked by Phil Thompson.
This unique gastronomic event will not only be a chance to experience food prepared by a host of accomplished chefs all in one evening, but through supporting the IDCF it will also be a great opportunity to give back to the local community.  The evening is priced at £80 for four courses or there are also group packages – £100 for four courses plus a glass of English sparkling wine and a visit from two chefs.  All profits will go to the IDCF.
Please email jamesj@danddlondon.comfor more information.
4th Flr, Canada Place, London E14 5ER020 7715 7100plateaureservations@danddlondon.com
Best of British chefs IDCF charity dinner 17th September 2012
Starter
Paul Foster, Tuddenham MillPoached parsnip, egg yolk, baked oats, grapefruit, sea purslane
Fish course
Chris Eden The Driftwood HotelCornish crab salad, brown crab mayonnaise, pink grapefruit and apple
Main course
Allan Pickett, Plateau RestaurantRoast cutlets of Colne Valley lamb, smoked aubergine purée, braised sweetbreads, buttered carrotsLamb sponsored by George Blackwell from The Rare Breed Meat Company
Dessert
Phil Thompson from Auberge du Lac
Blackberry arctic roll, marinated blackberries, vanilla & shortbread crumble