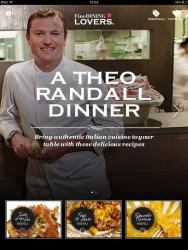 Fine dining gets a bad press these days. The current zeitgeist dictates that fawning waiters and fussy food are out, and pop upburger / fried chicken / roadkill joints are in. But those vendors of Italian mineral water San Pellegrino are going against the flow and attempting to reverse the trend, or at the very least show us that fine dining ain't all bad.
As sponsors of the annual competition to find the world's fifty best restaurants, San Pellegrino already have form on this front. And now, as a way of enabling us punters to recreate this restaurant experience in the comfort of our own homes, they have launched a new app for the iPhone and iPad.
The app, entitled 'The Perfect Host – London edition', features ideas for a series of themed dinners. So depending on your evening's aim, you can go for a'Taste of the Sea','Food to Share' or'Romantic Flavours'. Then, for each of the themes, there are different recipes, information on food and wine matching, dressing your table (!) and tips on where to buy the necessary ingredients.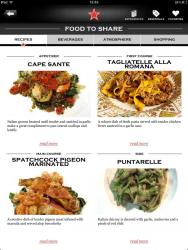 So far so good, but the real selling point is that they have partnered with Theo Randall, former head chef at the River Café and chef-patron at his own place, Theo Randall at the Intercontinental. Luckily for us, Theo is an extremely talented chef; his food is some of the best in London, certainly among the best Italian food, and it is his recipes which feature in the new app.
While San Pellegrino are angling this app at the fine dining end of the market, Theo is actually renowned for a relatively simple approach to his food, as befits his background at Chez Panisse in California and The River Café. I was fortunate enough to go along to Theo's restaurant for the launch of the app and also enjoy four courses of his simple and excellent food.
Scallops with lentils and pancetta, pumpkin ravioli with sage, and roasted Anjou pigeon, were rounded off with an Amalfi lemon tart. This menu was like the lining of a Barbour jacket, all greens, browns and oranges; very tasty, the pigeon especially so, and just the type of thing you want to be eating on a chilly evening in early autumn.
So if this free app from San Pellegrino helps you recreate a meal approaching this quality, it will have been well worth the 4.4MB of memory required to download it on to your device. Although a note of caution, unless you are a disciple of Jobs, you'll have to hold your horses, as the app is currently only available for Apple users.