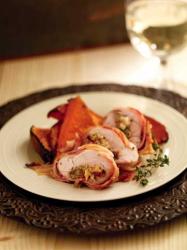 Chicken thighs are so versatile and packed with flavour. Chicken breasts can dry out quite quickly in the cooking process, but thighs are great for longer cooking and are inexpensive too. Serves 4
4 sundried tomatoes, diced
4 tbsp breadcrumbs
1 tbsp chopped parsley
1/2 lemon, zest and juice
salt and freshly ground black pepper
8 chicken thighs, bones removed and skin left on
100g buffalo mozzarella, sliced
8 basil leaves
8 slices of pancetta
extra virgin olive oil
thyme-roasted pumpkin wedges, to serve
1 Preheat the oven to 180°C/fan 160°C/gas 4.
2 Combine the sundried tomatoes, breadcrumbs, parsley, lemon zest and juice in a bowl. Season to taste.
3 Place each chicken thigh on a board. Spoon over some stuffing, place a slice of mozzarella over the stuffing and finally add a basil leaf. Roll up and wrap a slice of pancetta around each thigh, securing with a cocktail stick.
4 Place the thighs in a roasting pan drizzled with the olive oil and roast for 25–30 minutes, until golden and cooked through. Serve with thyme-roasted pumpkin wedges.
Recipe and photo from Eat Like an Italian by Catherine Fulvio