Balls and tarts out on display in Stratford on a Friday night? Hardly a midsummer night's dream, but not out of the ordinary, either.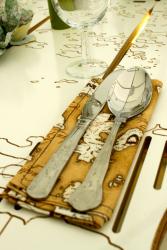 Okay, try this- a gigantic scale map of the UK has been erected in the courtyard of the Old Town Hall, functioning as the table for a series of world food dinners, aptly entitled Global Feast 2012.
The event is the joint brainchild of blogger and supperclub doyenne Miss Marmite Lover- aka Kerstin Rodgers- and globetrotting supperclub Latitudinal Cuisine. It's all on offer, from Russian to Sichuan, but we're here for a glorious Indian-Bangla-Pakistani fusion feed, rounded out with favourite-tipple-of-the-Raj G&Ts and rather fast and furious Kathak dancing from a duo of energetic young fillies.
Oh, and those balls and tarts? Despite the bawdy description, they're nothing more than canapes- the former peppercorn-spiked chicken and cardamom koftas with mint raita, the latter a Southern-Indian spin on guacamole served in diminutive pastry shells. Like Pringles, all too easy to pop and not-so-simple to stop- especially when pretty waitresses keep wafting past proffering more.
So, where to seat oneself? Wandering the Isles and considering our position, we opt for North Wales. Nice. Up close, the table's even more of a knock-out- adorned with origami flowers fashioned from aptly from maps, and a series of structures representing geological features which look like they'd be well at home in the 'dinobones' section of the Natural History museum.
Just as I'm about to start pounding my knife and fork on the table in a futile display of furious hunger, a plate of halved hard boiled eggs adorned with a Keralan tomato-and-onion preparation hits it instead, beating me to the destruction of Tenby. I don't need any help demolishing the starter, though- cookery teacher and supperclub host Sheba Promod has done a stellar job. The main course is a joint effort, led by meaty morsels from Sumayya Jamil, also known as the 'Pukka Paki'.
Determined to differentiate Pakistani food from Indian cuisine, Sumayya's pulled out the big guns with rose-imbued garam masala lamb chops and a verdant, green-spiced chicken biryani, with a paneer version for the veggies. Cooked by Meena from Chai Lounge, a pretty legendary kadhi also makes a welcome appearance. South India appears in the form of tamarind-laced aubergines with peanut sauce. 
Already familiar with Rekha Mehr's talents, I've been waiting all night for dessert. With Gujerati-British heritage and the Pistachio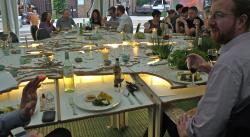 Rose bakery, she's on a mission to fuse elegant, French-style patisserie with the overlooked flavours of Indian sweeties. Which she does with great aplomb, setting before us a trio of tarts filled with dark chocolate and chai; milk chocolate, nutmeg and chilli; and white chocolate with sweet, fennel-rich paan. Pastry with panache.
Panache- also a particularly fitting epithet to describe the whole evening, actually. Some may dismiss Global Feast as a gimmick- but it's undoubtedly a gimmick writ fabulously large and executed both cleverly and wryly. Any concept which shines a light on esoteric, unsung cuisines is alright with me. And really, where else can you sit off the coast of North Wales all evening and remain pleasantly warm and dry?
Global Feast runs until Sunday 13th August, see www.globalfeast2012.com
For more on the cooks, visit absoluteindiancookeryclasses.com, chailoungesupperclubedinburgh.blogspot.co.uk, www.pukkapaki.com, www.pistachiorose.co.uk
Images courtesy of Kerstin Rodgers.