The North Pole, 188-190 New North Rd, London, N17BJ, thenorthpolepub.co.uk
It was supposed to be all about the beer. It was supposed to be only a short walk from the station. My story begins with hunger and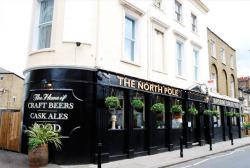 ends in pain, and yet like two pieces of stale white bread, my suffering sandwiched something wonderful in between. It wasn't my fault, I was really tired and dangerously hungry. After a gruelling trip through London with Olympic revellers and walking too far in heels it all resulted in low spirits. The twinkling lights illuminating The North Pole like a beacon in the night, heralded my salvation.
With an impressive selection of craft beers; 22 draughts, 10 hand pumped ales and ciders and 30 bottled titles to be exact, it seemed a no-brainer to focus on the beer. We were unlikely to run the gamut with 22 draught beers on offer, we tried an IPA from Cornwall, Meantime London Lager, Innis and Gunn from Scotland and after that I can't recall exactly what we tried. I do seem to remember an ale (or two) from Wales, but with so many of the beers tipping the scales at over six per cent alcohol, it's no wonder my recollection went foggy.
General Manager Ray O'Beirne could have ale running through his veins from the way he runs the floor. He's been doing it for a while now and he has injected some serious soul into the North Pole. I knew it was supposed to be all about the craft beer but I quickly became distracted with the food menu. I glanced over the burgers and obligatory fish and chips, looking for something interesting. I spotted home made pork scratchings in the snack section and my heart skipped a beat and then pulled pork caught my eye.
From the snack menu we tried a Scotch egg served with chutney and rocket, pork scratchings with apple dipping sauce and chicken strips with range dressing. It was all good, really good. I don't think I've ever had chicken melt in my mouth before. It's as if they had been massaging the tenderloins for days or giving them buttermilk baths of an evening with a relaxing glass of wine. The juicy, tender morsels covered in spicy batter outdid The Colonel's efforts by ten to one and with three strips for £4 it could well become a very dangerous habit for any local.
Next came ribs basted in a decidedly sweet, red pepper sauce with meat falling nicely off the bone. The pulled pork sliders, similarly dressed were quite big and I questioned the wisdom of putting rocket in the mix, but it was a stroke of genius and complemented the pork perfectly. The sweet potato chips with skin on, were more like huge roasted battons. And the jerk chicken and rice came last of all. At that point I was so full it hurt to breathe. But I forged ahead, channelling Man.V.Food with every bite. The chicken on the bone was spicy, blackened to perfection, moist and every other adjective that belongs next to the word 'chicken'. The coleslaw was possible the best I've ever tasted.
And so there my story ends with the regrettable ache of gluttony. I would have been disgusted with myself but I know that food like that doesn't come around very often. If The North Pole was my local, I'd signing up preemptively with Jenny Craig, anticipating complete surrender to the soul food coming out of that place. There's love in that kitchen and it tastes good.
An independent free house, The North Pole is everything a pub should be; comfortable, excellent beers from far and wide, excellent food and good tunes. There's nothing left to say really. If it's your local, and hell, even if it isn't, don't waste time anywhere else.