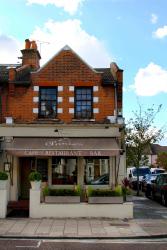 Annie's in Chiswick is somewhat of a local institution. On the river in this famous London village's southern loop, locals drop in loyally. But, as with everything in Chiswick, there's local and there's local: if it is on your doorstep you go there; if it requires a walk, a short bus journey or, worse, a drive in a car leaving one person unable to drink, it might as well be abroad. It's easier to travel into town than nip round more than one corner.
Peculiarly, Annie's in Barnes is easier for many Chiswickians – and Londoners generally – to reach. A short walk from Barnes Bridge railway station (a two minute journey from Chiswick main line station, 22 minutes from Waterloo), or just off a bus route from Hammersmith, and similarly near the river, it is more easily accessible all round. It buzzes with a laid back vitality that makes it feel as if you are at home relaxing inconsequentially while simultaneously being treated to a decadent night out. "The warmest of welcomes" proclaims a sign on a big, but not overly large, mirror. Yes, the décor is shabby chic – those mirrors, unremarkable cutlery and glass, huge church candles in overlarge gilded holders – but it avoids that cliché by being glitzed up with a hefty dose of glamour – dramatic wallpaper, splashes of bright colour, kitsch chandeliers. I have never felt more at home, more comfortable or more welcome in a restaurant. Annie's in Barnes is heady with warmth.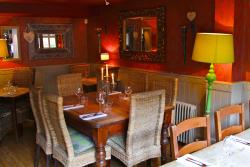 It's spacious, too. Tables are spread out, arranged for enjoyment rather than to maximise numbers, and the main room is airy and open, each table intimately separate from the rest. A room behind is cosier (booked for a celebration, the evening I was there), a charming garden courtyard beyond provides space on warm days. The music was slightly too loud, I thought at first, but my fingers tapped away as I studied the menu; later, I realised it was at just the right volume to emphasise Annie's home-from-home feel, helping conversations to remain largely unheard.
There was no pressure to order, or to finish our meal. "The table is yours for the evening," we were told – in a casual, just to be sure you know there is no rush kind of way – as the cork was drawn from our bottle of wine. The house red, a Spanish Tinto Garnacha, was warming with a hint of spice – just right on that cool, windy night.
The chilli squid made us smile. Cut into strips and lightly breaded, it was served in a curl of paper to resemble chips from a chippy – a witty take on that now over-familiar and slightly out-of-date canapé of fish and chips. The wasabi mayonnaise dip was a welcome change from the usual antisocial garlicky aioli. Very well balanced – smooth and crunchy, mild and spiced – it was entirely appropriate to start this most comfortable of evenings with something to be eaten with fingers. Halloumi salad, lightly dressed with a good olive oil, was colourful; onions added a touch of sweetness to counter the saltiness of the cheese.
If pork belly is on the menu, I'm knocking on the door. Piled high with a generous slab of crunchy crackling, it was nicely burnished and sticky with a rich, thick gravy. Perhaps it was slightly overcooked, but no matter; it was deliciously satisfying. Chargrilled lamb had that unmistakable, and beguiling, taste of charcoal; tender, moist and pinkly plump, it was perked up with a hint of minted aioli. It was undeniably competent nosh.
Puds are Annie's finest creations. Famous for its crème brûlée, with a different flavour every day, that night's was Cointreau. Extraordinarily creamy and with an appropriate hint of orange, the caramelised topping was generous and just-as-it-should-be crisp. Banoffee pie was astonishing. "It looks like Christmas," said Mark. A flutter of icing sugar snow, folds of cream, pale green pistachios, a heavy drizzle of caramel sauce – and real banana. "It's better than sex," proclaimed Mark with yet another of his spot-on comments (and I gather he should know). It was dreamily, extravagantly, scrape-the-plate-clean good.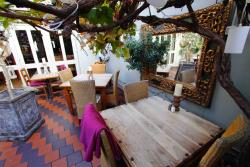 None of it would have the Michelin inspectors rushing round and thankfully so. Don't expect to leave discussing the cleverness of a cappuccino foam, the intensity of a wine reduction, the artfulness of the presentation. Annie's in Barnes avoids every competitive expectation of gimmick-loving gastronauts. What it does is glammed-up home cooking, well-executed and fun, in a relaxed, rococo-mixed-with-rock-and-roll atmosphere. Anything goes – and so should you.