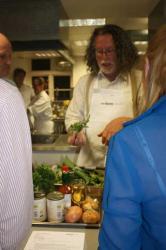 Many ethical expressions and ideas get thrown around in the food business, from sustainable fishing and fair trade farming to the current chef-led furor over pig's feed. Whilst it is undeniable that we all have a responsibility to do everything we can to sustain the world's resources, many people (including me), either have no clue how to go about it or have the best intentions but lose interest all too quickly.
I can't be the only one who watched Hugh's Fish Fight on Channel 4 aghast, promised myself that I'd never buy anything other than gurnard again, before succumbing to a can of tuna within a week. And I hope I'm not alone in admitting that I thought (not that long ago) that'Slow Food' meant cooking a pork belly on a low temperature for eight hours.
Slow Food is in fact a movement founded by Carlo Petrini in the late 80s, designed to counteract the attack of fast food on the world. Though it has since branched out to mean many things, it basically translates into eating food that can be accessed by as little transport as possible; supporting the producers and retailers that have been feeding us for centuries rather than soulless corporations; and avoiding any living creature that is near to being wiped out. Other no nos are being wasteful, scoffing at what you think are weeds but are actually edible and delicious plants, and eating anything from MacDonald's.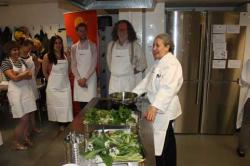 Since its humble beginnings in Italy, the Slow Food movement has become international – which is why we in the UK celebrated it last week. Events around the country included a'leftovers' dinner party push supported by The Great British Menu's Prue Leith; a'six forgotten foods' campaign helped along by Slow Food UK's Taste Ambassadors including Richard Corrigan and Charles Campion; a series of fundraisers and dinners calling on the talent and influence of such high profile chefs as Giorgio Locatelli, Anna Hansen and Stevie Parle; and finally an interactive cooking class at The Cookery School on Little Portland Street which I was lucky enough to be invited along to.
The worthy theme for the evening was'fishing and foraging' so – before we were asked to wash hands and don aprons – environmentalist and restaurateur Caroline Bennet and foraging guru Chris Bax took us through what Slow Food means to them.
Caroline, who has spent many years pioneering sustainable sushi at her award-winning restaurant Moshi Moshi on Liverpool Street, spoke about the floundering stocks of fish left in the seas.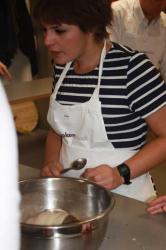 Whilst Chris, who used to be a chef in London before setting up his company Taste The Wild, enthused about the abundance of delicious wild food at our disposal in the UK.
Finally, The Cookery School's imposing founder, Rosalind Rathouse, talked about her passion for ensuring that as many people as possible have the ability to turn fresh ingredients into delicious food. 
With noble intentions in our hearts, we were divided into five teams and left to cook two dishes each. My team were let loose on some stunning orange dotted plaice, which we were asked to poach with foraged herbs and coat with fried butter flavoured with pickled wild garlic –as well as assemble a vibrant salsa from the familiar (a pile of ruby tomatoes, garlic, red onion, chillis and peppers which we expertly sliced and diced) and the unfamiliar (an edible flower of which I've already forgotten the name but had seeds that tasted of aniseed and a stem not dissimilar to spring onion).
Finally everyone sat down to share dishes that included crab fishcakes, mackerel pate and pickled herring – all knocked up within the hour. And, even though I cook from scratch all the time anyway and am likely to sound grossly sentimental, there was something genuinely stirring about eating food made with ethically sourced ingredients with a group of people that believed in it.
I left feeling full, fired up about Slow Food, slightly smug and determined to stick to gurnard this time.
The Cookery School
15B Little Portland St
London
http://www.slowfood.org.uk