A crowd has gathered in the upstairs room of the Hinds Head pub in Bray on Thames for the launch of a new cookery book. Many of the assembled have probably never heard of the author and have been lured to the event by the promised attendance of Heston Blumenthal, myself included.
Even if the world's favourite sci-fi chef wasn't putting in an appearance, most of us would have crawled over broken glass to sample the out-of-this-world canapés that include miniature versions of Hinds Head and Fat Duck signature dishes such as the famous fish pie and chocolate wine with millionaire shortbread.
Heston duly appears, a little late due to heavy traffic between his home in nearby Marlow and Bray. He is typically unruffled and has donned a pristine chef's jacket for the occasion, although no one expects the superstar chef to get his hands dirty.
Michelin starred chefs Atul Kochar of Benares in London, Kevin Thornton of Thornton's in Dublin, Alain Roux of the Waterside Inn (also in Bray) and John Burton Race of The New Angel in Dartmouth mill around while people munch on delicious scotch eggs and leaf through display copies of 'A Boy After the Sea" by Kevin Snook. It's a beautifully produced coffee table tome of seafood recipes from some of the world's greatest chefs including Andoni Luis Aduriz of Mugartiz in Spain, Yoshiaki Takazawa of Aronia de Takazawa in Tokyo, legendary Chicagoan innovator Charlie Trotter and Blumenthal himself who also wrote the introduction.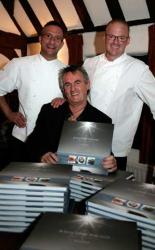 But the book has a higher purpose than simply piscatorial gastronomy. Proceeds from the sales of A Boy After the Sea will go to the Dan Snook Trust Foundation , a charity set up by Kevin Snook in honour of his late son who took his own life in 2006. The foundation's mission is to 'transform and enrich the lives of troubled people aged between 15-25 years, who have been subjected to sexual or substance abuse, or possibly both, struggling to cope with the pressures they find themselves under".
Part way through a short speech about his son, Kevin Snook's voice catches and for a few seconds he's overcome with emotion. It's a sobering moment as real life touchingly intrudes on the party atmosphere and underlines how brave the family have been in mining something positive and public from a personal and private tragedy (you can read Dan Snook's story here.
The assembled chefs sign A Boy After the Sea for a long queue of eager punters who take away from the evening a little more than just a glossy recipe book.
A Boy After the Sea by Dan Snook is published by Snook Publishing and is available to order from info@dansnooktrustfoundation.com for £35 plus p&p.