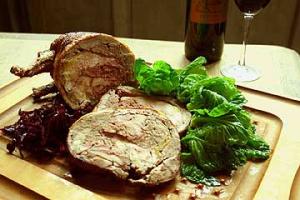 West London gastropub Paradise by way of Kensal Green is introducing a turducken dish to its menu.
The turducken dish consists of a partially de-boned duck stuffed with a de-boned pheasant, which itself is stuffed with a small de-boned partridge. The duck is then stuffed with a seasoned mixture of minced pork, pork fat, chicken livers, white wine, breadcrumbs and herbs. The dish is served with roast potatoes and a selection of seasonal vegetables.
Head chef Tim Payne has drawn upon suppliers such as J&J Meats, Johnson & Swarbrick, and H.Greaves and Son to source lean and healthy free-range animals that are low in cholesterol but at the same time offer a good range of subtle flavours.
Available in the dining room at Paradise, the dish will be priced at £16 per person or at £75 to share between 5. The turducken needs to be pre-ordered 48 hours in advance and will be available during October, November and December.
The turducken dish will also be available as the main component to the recently introduced 'Host Your Own Roast', catering for up to 20 people. Served with roast potatoes in duck fat, Yorkshire puddings and all the usual favourite trimmings. The 3 course private roast ishosted by Tim Payne, and held either in the venues ground floor Reading Room or upstairs in the private dining room. Payne carves for you at the table. Just like doing it athome except without the washing up! Guests can choose from 'Roast Suckling pig' or 'Roast Goosnargh duck', as an alternative to the turducken.
Paradise by way of Kensal Green19 Kilburn Lane, Kensal Green, London W10 4AE www.theparadise.co.uk