Borde Hill Gardens, Balcombe Road, Haywards Heath, W. Sussex. RH16 1XP www.jeremysrestaurant.co.uk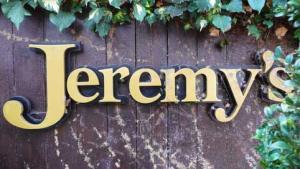 On the drive to Borde Hill gardens, through tree-branch tunnels, I spied the aftermath of a great many game birds, spread on tarmac. Morbidly, I found the sight mildly appetising. Rather than irrational bloodlust, I interpreted this as impatience to sample the speciality at destination, 'Jeremy's', a family-run restaurant known for its game…
Despite a false start of taking a table at their next-door café, where I wondered for 10-minutes where all the game had gone, once within the more upmarket main act, I felt reassured by a shrine of game cookbooks written by politico, Norman Tebbit. Once described as 'the living symbol of dead-eyed Tory evil', Lord Tebbit's tome includes chef, Jeremy Ashpool's recipe for loin of herb-crusted venison with smoked bacon, spring onion and sage mash, soused with warm Cumberland sauce.
Regardless of your political persuasion, it does seem that expensively-matured Tories know their game – as the mural of Maggie Thatcher at London's oldest restaurant, 'Rules' would attest. According to the restaurant's newsletter, Tebbit was even due to garnish the venue with an appearance on 'game night', but later bailed on account of the late return to his Norfolk pile. The Independent's 'Pandora' wrote differently, however, accusing Ashpool of shrewd PR – parliamentary staff apparently stated 'from the off' that he could never make it.
In the company of regulars reminiscing over the 'retro night' earlier that week, we opened with fresh juices, slightly prune-like olives, but immaculate salmon crostini in the cobalt-blue bar. In the cosy dining room, with corn-fed, egg yolk coloured walls and views to the grounds with long, vine walkway but ugly fountain, the dramatic incidence of classical music, seemingly lifted from adverts, upset the equilibrium.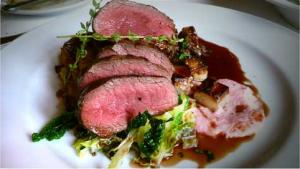 A starter of tender chicken livers – seeming like most acceptable poor man's foie gras – was berthed on lentils, lacquered with chorizo oil and cleaved by crisped, ruddy Bresaola shards. Warming, and in parts almost melting, this subtly-spiced dish captured autumn perfectly. Eagerly awaited, the roast venison loin and braised fillet from nearby Balcombe Estate lived up to Tebbit's endorsement. Sweetly sanguine and subtly salted, it was served with boulangere potatoes reflecting a very good stock, thyme juice and amusingly bumpy, beetroot-tinted spiced turnip sauce. From an inquisitive, gutsy wine list, a stand-in sommelier curiously clad in a wedding breakfast waistcoat brought an angular 'Bierzo joven' – a mineral, pretty red, with sufficient acidity to cleanse the sauces.
After my friend mischievously begged a cigarette from a kind barman, our shared lime-spiked berry posset served in a Martini triangle came recommended by a waitress who had ordered it for her wedding day.
In a recent interview, Ashpool spoke about customer loyalty being key to surviving two recessions. Knowing customers by name, running regular jazz, winemaker and game nights and offering good value and a loyalty scheme, he should continue to trade as long as he wants. Desirably, Jeremy's combines the friendliness of a neighbourhood restaurant with the style and precision of something more aspirational.
As we left, the manageress almost pressed a wedding brochure into our hands (a licenced marquee adjoins). Whilst richly flavoured and sumptuously textured, the posset was not reason enough to tie the knot…
Jeremy's is open all year-round; Borde Hill Garden and Parkland are open until 1st November 2009, 10am – 6pm daily