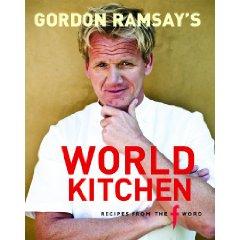 Gordon's back on our screens, slapping one hand into the other every five minutes and calling everyone Big Boy, which I know at least one viewer finds slightly disturbing to say the least.
Anyhoo, 'The F Word' is compulsive TV in the same way as Top Gear is; you don't want to like it but you do because it's fast paced, well shot, inventive and gives the impression of being made by intelligent people.
So here is the book of the series with this time the emphasis, as you may have guessed from the title, on world cuisine. Each chapter features recipes from a different country or place, such as Middle Eastern, Thai, American, Chinese, Indian, French and of course our own beloved Great Britain. Stand up then and salute Gammon with pease pudding and parsley sauce!
There's always a question mark over books like this about how much the soi disant author, in this case Gordy, actually writes. A look at the credits says Food by Gordon Ramsay with Mark Sergeant and text by Emily Quah. What does that actually mean? Obviously the dishes are © The Lads and so presumably Emily wrote them down. Gordon clearly wrote the intros to each chapter, they have his characteristic tone of voice, and he may even have written the individual recipe intros too, but it's harder to tell.
Enough of this, though, because what really matters are the recipes. Do they sound interesting, do they appear achievable and do they actually work? Far too many cookbooks suffer from sloppy editing with steps in the prep left out, or ingredients listed but never mentioned again. I hate that particularly but Gordon's seems solid in all respects.
Pappardelle with rabbit ragout is something I always seek out in Italy, but I am a bit squeamish about actually cooking dear old Flopsy myself – the way butchers hang them in the window doesn't help. Here though, if you're made of sterner stuff than me, is a good recipe rich with red wine, herbs, mustard and carrots and fennel. Sounds fantastic.
The Tuna Provencal looks good too, a way of cooking tuna steaks that lessons the risk of overcooking and surrounds them with flavour-packed juices of coloured peppers, courgettes and juicy black olives. Spanish dishes include simple things such as Garlic prawns and Broad beans with Iberica ham, Tortillas and the lovely Crema Catalana, Spain's answer to the Crème Brulee.
Heading East there's Crispy salt and pepper squid which is fired up with Five spice powder the tingly zap of Szechwan peppercorns and plenty of fresh red chilli. Chicken in a spicy coconut broth is aromatic with ginger and lemon grass and of course ubiquitous coriander leaf. You can smell it off the page.
Not afraid to venture into Indian cooking, Gordon gets busy with a Biriani and a classic Madras curry and then goes all American with Seafood Gumbo, Boston Cream Pie and various ways with steak.
There's an awful lot to enjoy here, the best bit being that one book covers so much. Now there's no need to cast around your shelves for that quick and easy midweek meal, simply let Gordon be your guide around the world. Oh and don't worry Mum, there's not a single F word in sight.
{ISBN:1844007138}