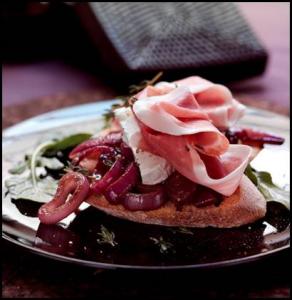 Everyone needs a quick culinary trick up their sleeve, here is yours! Rustled up in minutes, these posh little snacks or starters never fail to impress. Simply top mini toasts with a warm mixture of caramelised red onions flavoured with balsamic vinegar and cranberry sauce, add a slice of goats cheese and finish with paper thin folds of Parma Ham.
Delicious Parma Ham is a completely natural food with nothing added except salt. Making a Parma Ham is a long and painstaking process. The curing is controlled carefully so that the ham absorbs only enough salt to preserve it to retain its distinctive sweet flavour.
Prosciutto di Parma, is produced in the hills surrounding the Italian town of Parma. The air in the Parmesan hills is unique, dry and sweet-smelling with breezes from the Apennine mountains, creating perfect environmental conditions for a natural 'drying" of the hams.
The unique taste of Parma Ham is dependent on the traditional production process passed down from Roman times, carefully controlled by the Consorzio del Prosciutto di Parma. Only hams that have passed stringent curing regulations approved by the EU can be awarded the stamp of the Ducal crown – a five pointed coronet logo with PARMA in the centre which is branded onto the ham's skin. The Ducal Crown is now a certification trademark
Cranberry and Red Onion Toasts with Goat's Cheese and Parma Ham
Serves: 4
25g (1oz) butter
1 tablespoon olive oil
3 red onions, sliced
1 teaspoon sugar
2 tablespoons cranberry sauce
dash of balsamic vinegar
salt and freshly ground black pepper
8 slices of ciabatta bread
200g (7oz) goat's cheese, sliced into 8
8 slices Parma Ham
a few thyme leaves, to garnish
Heat the butter and olive oil in a frying pan. Add the onions and cook over a medium-high heat for a few minutes, stirring often. Add the sugar and cook for a few more minutes, until they begin to caramelise. Remove from the heat and add the cranberry sauce and a dash of balsamic vinegar. Season to taste with salt and pepper
Toast slices of ciabatta and arrange two pieces onto each of the 4 serving plates. Top with an equal amount of red onions, then place a slice of goat's cheese on top of each one
Top each piece of ciabatta with a slice of Parma Ham. Sprinkle with a few thyme leaves, season with a little more black pepper, then serve at once
Cook's Tip: If you prefer, grill the goat's cheese until golden and bubbling. You can also make tiny versions to serve as canapés for a special buffet lunch or supper.