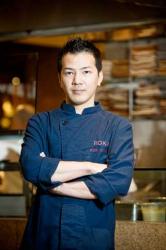 Since ZUMA's launch in 2002, the London born ZUMA and ROKA restaurants have been expanding to international locations – Hong Kong, Istanbul, Dubai, Arizona and now, the latest ROKA is opening back home in London's Canary Wharf late October 2009.
Working with ROKA's Group Executive Chef Nic Watt once again, will be Head Chef Yoshi Muranaka, reforming their ROKA Charlotte Street partnership of old. Yoshi grew up in the coastal region of the Kansai prefecture where his family have a tradition of working within the fishing industry. The young Yoshi's natural instinct for seafood combined with his family heritage led him to develop a strong sense for the quality of seafood and at 18 started his career as a chef in one of Osaka's exclusive private sushi restaurants. Yoshi continued to hone his skills in the detailed art of Japanese Sushi preparation until a chance meeting with Rainer Becker in Tokyo brought Yoshi to the UK.
The cuisine at ROKA is based around the warmth and energy of the Robata grill and whilst many ROKA Charlotte street favourites will, of course, be on the menu, Canary Wharf will boast its own dishes such as: nori fu-mi no pan to ama ebi- sweet shrimp, nori toast and yuzu mayonnaise; maguro to pirikara- spicy tuna, yuzu tobiko and avocado maki; as well as hinadori no teriyaki, nasu to shiýtake gohan zoe- robata grilled teriyaki baby chicken, shiitake rice and roast ginger aubergine.
ROKA Canary Wharf's design has been undertaken by Noriyoshi Muramatsu, renowned designer of Studio Glitt in Japan, and will accommodate up to 140 guests comprising the main restaurant, the bar and an external seated terrace, overlooking Canada Square Park.
Like Charlotte Street, the bar at Roka Canary Wharf will specialise in Shochu- Japan's other national spirit, which is distilled from barley, buckwheat, sweet potatoes and sugar. As at Charlotte Street, guests can order their very own personalised Shochu Kume which will be made available to them to enjoy with their every visit. The Canary Wharf ROKA will also incorporate the first 'Robata Chef's table', where guests can be seated within the energy and action of the open charcoal robata kitchen, the very essence of all that is ROKA.