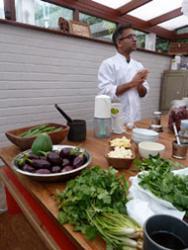 When I watched the lovely Mrs G bubble chapattis on the flame or whip up an Indian snack, I had no idea she had no sense of taste or smell herself. An accidental knock to the head years ago numbed these for the diminutive and now elderly mother of four whose son's cookery class I was attending. But still, mum of son Nikita Gulhane, aka Spice Monkey, works nose to grindstone to turn out superb Indian food which has fed her family for a lifetime; a tragic sacrifice not untypical of many an Indian Mother.
Nikita and Mrs G make a charming pairing at the cookery school he runs from the family home in North London. I arrive at the dinky dormer bungalow one Saturday for an advanced five-hour course in Maharashtrian cooking. Maharashtria, in Western India, is the home of Mumbai, dahl, citrus, groundnut and Mrs G. The class takes place in a bright conservatory at the back of their house filled with Indian curios and five other enthusiasts.
Whenever Nikita needs help, he calls Mrs G, banging around in the kitchen, who scurries over and fetches plastic spoons, ginger, and decorated betel nut cutters. It's an affectionate relationship and one which distinguishes this cookery troupe from the more professional setups. Nikita himself has a dry humour and willingly shares his extensive knowledge of spices and food politics – his previous job as a food journalist is in evidence here.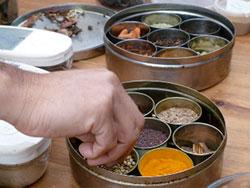 We were to make Kolhapuri mutton curry – made with jaggery (cane sugar) and coconut, okra in tangy kadhi, or curd sauce, stuffed masala aubergines, chappatis, and pomegranate shrikand – a yoghurt dessert.
Spice Monkey first takes us through the basic spices – cumin, coriander, mustard seeds, turmeric, curry leaf – but where many chefs will stop here, the Monkey flourishes with his wider repertoire: lacy mace in an orange sprawl over a cheeky nutmeg, chunky black cardamoms, sexy little green ones, spiky cloves, cassia bark, and poppy seeds.
One ingredient peculiar to Maharashtra is the frilly black and white lichen called dagad phool though I can't say I tasted it too strongly in our food.
But Nikita doesn't do the neat and tidy spice-in-ready-pots thing. Instead, preparation is sometimes as fiddly as good home cooked food needs. Get stuck in! We painstakingly peel almonds that had been soaked overnight in water, just so one little petal could nestle in our pomegranate shrikands. We use kitchen towel to blot the whey from mounds of yoghurt, carefully pulling paper shreds off with our fingers.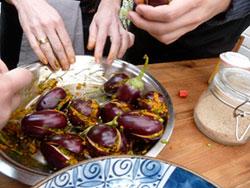 And we make a variety of masalas, different ones for different dishes, some dishes using two – this is an advanced course for aficionados who don't mind putting in extra time and work in exchange for satisfaction.
Mrs G looks after us with a midmorning snack of poha – fresh and light rice flakes with coconut, lemon, peas and spices, with a cup of chai.
There are also strewn around bowls of okra, dwarf aubergine bulbs, bunches of coriander and other vegetables which we use later in the cooking. Nikita tells us about the difference between Indian and Western bay leaves – the former being much more fragrant and striated. He is also enthusiastic about the humble chickpea, much used in Maharashtra.
"I can do three-course meals just using the chickpea," he says. The chickpea makes an appearance in besam or chickpea flour which we mix with yoghurt and turmeric to make a tangy okra kadhi/sauce – the sour yellow and green contrasts work well. He also slings in hing with its "mysterious smell, slightly dirty".
Later, we roll chappatis with Mrs G who tests our dough balls, scooping up wet ones and expertly rolling them into chappatis which we then roast on a tawa – or plop on a naked flame until they balloon.
The Kolhapuri mutton is beautifully rich with a sauce thickened with hand-scraped coconut, personally cracked and cranked. Nikita softens the meat at the end using raw green papaya which contains the enzyme papain, though there are some crunchy bits still on the bone.
At 4pm, we sit down in their Indian-style dining room to feast on the fruits of Spice Monkey and Ma's labour – admittedly they have done most of the cooking as there isn't space or time for us all to cook everything from scratch.
For a lazybones like me, this is perfect although I'd been strong-armed into some slicing and stirring earlier. The best bit about the day has been its homeliness and authenticity. We overrun a bit but that's because they don't cut corners. Just as well, I think, as I later sip one of my cup-a-soups and wish I had a Mrs G in my own kitchen.