154, Haverstock Hill, Belsize Park, NW3 2AY www.ballaro.co.uk
Belsize Park is very different to my post code; no one seems to be obviously insane, no one is wearing sportswear (who's not actually a member of a gym), no one has a dodgy dog trotting leashless behind their bike and no one is screaming unintelligibly into a mobile phone. Even the OAPs look like they could be just off to finish yet another historical novel destined for respectful reviews in the Sundays.
I pondered this as I ambled down Haverstock Hill; London really is a collection of monocultures: rich, poor, artistic, desperate, dangerous – more defining descriptions of the majority of people in an area than their ethnicity.
Around here it's'comfortably off' that seems to be the common factor and people who are comfortably off do like a nice neighbourhood restaurant, because, quite honestly my dear, cooking isn't always an option on a school night.
Ballaro is a nice new restaurant. From the outside you clock a good corner location, once a pub apparently, and inside there's a modern airy room with chairs of lime green leather. These make a refreshing change from those high backed brown chairs, or reclaimed scaffolding planks with nails in, which seem to be the only seating options most restaurants consider these days
It's a good look and there is no whiff of the trattoria, which means I won't find my personal  Holy Grail; a Proustian cannelloni I ate at 14 which was so wonderful I long to taste it again. It wasn't in Italy that I ate it of course, it was in South Croydon.
Ballaro is not the place for such clichés. The menu online intrigued me, as did chef Carmelo Carnevale's background, he previously worked as head chef at Novikov's Italian place, and while I didn't find that restaurant my kind of thing, I did like the food.
Sicilian cooking is the thing here, an island cuisine influenced by many others, notably Moorish and Middle Eastern, and of course the sea. A starter of octopus, slow braised, perhaps even sous vided, has tentacles as soft as kisses and is laid on a bed of mealy Nostrane lentils. There is a waft of garlic in the sofrito of onion and carrot, the splash of stock is rich. It fires the appetite.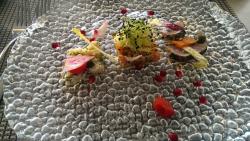 L has a trio of salmon, tuna and salt cod, the plate bejewelled with pomegranate seeds; the Middle East making its appearance on the plate. Each fish has its own character, the rich salmon, the fatty tuna, the flaky cod. The acidic pulp of the pomegranate is an excellent foil to all the flavours, but I still get annoyed by the bitter seeds that always head straight to my teeth crevices.
Of course eating some pasta is non-negotiable.  Black tagliolini with crab, lemon zest, and cherry tomatoes was my eventual choice from a pasta menu that had me endlessly, happily, changing my mind. The pasta came twirled into the vague shape of a whale and was perfectly al dente, which should go without remarking, but not every restaurant gets it right.
It had also had its last few cooking moments cooked in the sauce, an absolute essential move with pasta so that it picks up a hint of sauce flavour along with its own. The crab was well mixed through and sweet as a nut, although I did get the odd crunch of shell, but the surprising star of the show was the lemon zest in tiny sprinkles. This was perfectly balanced against the crab, a spritz of welcome acidity on the tongue.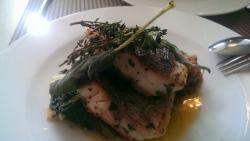 Wild sea bass on caponata was again excellent, the fish skin crispy and the flesh flaking moistly. Swiss chard, that resilient green vegetable that gives twice – a celery like stalk and a bitter, spinach on steroids, leaf – was offset by the sweetness of the raisins and the tang of vinegar.
On the side we had panelle, that archetypal Sicilian street snack of chick pea flour cooked like polenta and left to solidify before being fried in olive oil and served with lemon. It was delicious and just the thing to eat with the fish.
We shared desserts, a plate of samples, and not being a great sweet person I only nibbled but the tiramisu was on top form and the chocolate cake rich without being gooey.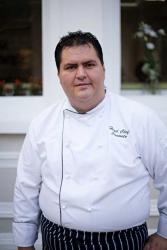 The wine list is all Italian and starts at around £25, with plenty of choice for the enthusiast, and food prices are what you would expect for the area at around £45 per head. A set lunch menu of two courses is £12.50 which really is a steal.
On the way out chef suddenly appears to say that, seeing me from the side when I came in, he had a sudden heart-stopping moment when he thought I might be Massimo Bottura, one of the finest Italian chefs in the world.
Well I'm not a 3 star Michelin chef,  but if Massimo had come in I think he'd have enjoyed this little piece of Sicily in an ivory London postcode every bit as much as I did.