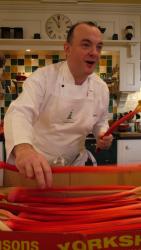 Before taking Stephen Bulmer's cooking class I hadn't contemplated the meaning of'tempura' despite regularly eating pricey, poshly-battered items. It means'revealing dress' says Bulmer, so'best keep the batter light.' Nor did I know that a scattering of water infused with parsley stalks helps prevents chopped vegetables oxidising'at least as well as a squeeze of lemon juice.'
I also learn that the ubiquitous nettle is so nutritious that the Romans'cultivated them to sustain their troops.' And to burn milk for crème patissiere, which we make towards the end of the day, it helps to'first sprinkle sugar on the base of the pan…'
These are but four informative and memorable morsels I glean over an often amusing, always action-packed session at Swinton Park's cookery school. It brims with slapstick and shtick, such as the moment Bulmer alarmingly and effectively de-veins a partridge shot on the Yorkshire moors. He twirls it over his head, using a claw as pivot while singing a football chant. Then there are the memorably vivid descriptions, such as the fact a pannacotta should'wiggle like Jennifer Lopez…'
After 32 years working in kitchens outside Yorkshire and often on the continent, Bulmer returned to his roots a year ago, taking over Swinton Park's cookery school from the imposing Rosemary Shrager who ran it for a decade. Unsuccessful at maths, Bulmer left school to work at the pub which became known through its appearances in TV series, Heartbeat as The Aidensfield Arms. Despite being told he had'fantastic ideas – but your food is crap,' by Raymond Blanc, Bulmer nonetheless progressed to the kitchens of Le Manoir Aux Quat'Saisons and Locanda Locatelli.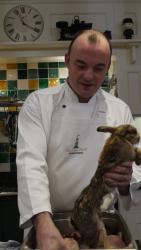 Deep within the Dales in the former stable of the luxury, castle-like, family-run Swinton Park hotel, the school has access to a mighty larder. 20,000 acres enfold livestock farms, heather moors, a deer house, trout farm, lakes and rivers as well as a four-acre walled edible garden.
It is likely you have come across feathered and furred game beasts from here before, supplied by'Yorkshire Game' to the ETM group's 11 pubs as well as The Wolseley in London. Indeed, midway through our lesson a dozen chefs from the latter and sister site, Brasserie Zedel  file in, keen to see the source of the game on their menus. Glad of extra attention, Bulmer talks of the bounty of game raised on the estate:'I did a course with 36 birds the other day…'
Not a fan of molecular gastronomy having observed much misuse of techniques, not forgetting the overall expense of relevant equipment, Bulmer readily mentions cheaper alternatives while leaning against Shrager's AGA.'Can't afford a costly water bath? -Simply set your boiler at home to 68 degrees Celsius and keep running the kitchen tap.'
Thump Timpani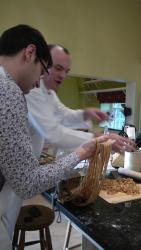 Our five-strong group enjoys plenty of space (classes are limited to 12) to work on no fewer than nine dishes, from focaccia to what I find is an easy Turkish smoky aubergine dish, Iman Bayeldi, roast pheasant with watercress and lentils flavoured with mustard from the estate, and fresh crab linguine. The jokes continue to come thick and fast. Bulmer says that gill-like dead man's fingers'aren't going to kill you' –'worse are the likes of A.A. Gills…' And, while baking, we are asked:'which flour shouldn't we use? -Cauliflower!' before we are shown the effectiveness of stretching a shower cap over a bowl of proving dough.
Although Bulmer's perpetual hectoring of his good-natured and frankly, amazingly tolerant young sidekick (or should that be assistant?) Mike grates – I think Larkin's verse, 'Man hands on misery to man…' could sum-up the emotional scars inflicted in many a 'professional' kitchen – I leave armed with confidence and considerably more knowledge than when I entered the bright kitchen, bleary-eyed, pining for coffee. I even ably unassistedly replciate the Bayeldi in the week that follows.
As Bulmer further acclimatises to Swinton Park, he is keen to craft acorn flour and refine his supplier list, which already includes a cider made by'a DJ in Thornborough.' He also intends to seek inspiration in Vietnam. Meanwhile, the hotel, already awarded four A.A. red stars, has submitted plans to build a brasserie to supplement their, despite the setting, unexpectedly modern three rosette restaurant (excellent) and a more encompassing spa.
Recipe: Stephen Bulmer's Chargrilled, Stuffed Calamari with Basil and Tomato
(Serves Four)
Ingredients
-2kg squid (prepared)
For the basil and parsley stuffing:
-100g chopped white fish with the calamari tentacles
-4 slices crust-free white bread
-2 bunches basil
-1 bunch flat leaf parsley
-1 clove garlic, finely chopped
-1 egg
-Salt and pepper
Method:
Purée basil with parsley first, then add garlic, chopped fish, tentacles, bread and continue to blend. Lastly, add the egg and seasoning.
Stuffing and cooking the calamari:
Once you have cleaned the squid, turn each tube inside out, then, using a piping bag, half fill with the stuffing. Secure the top with a cocktail stick.
Heat a griddle very hot. Then, on a tray, add a little olive oil, salt and pepper, and lightly coat the squid. Place on the griddle and cook for one minute one each side.
F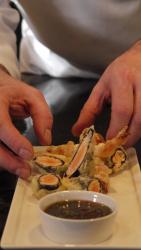 or more information on cooking at Swinton Park, including BBQ events and pre-dinner cooking classes, see website  / cookeryschool@swintonpark.com
To get there, Grand Central Trains operate direct services London-Thirsk. Some of their first class rolling stock feature exuberant livery, including photos of Marilyn Monroe