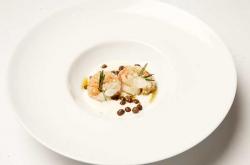 Knightsbridge: a place of chauffeur driven Mercedes; chrome-plated, exotically number-plated Bugattis; penthouse flats that sell for £140m; and many other forms of conspicuous consumption. For me, it is not a destination, but a place to be travelled through en route elsewhere.
At the spiritual heart of this is Harrods, somewhere I tend to avoid. Nevertheless, a couple of weeks ago, I did indeed make a trip to Harrods. Not to shop, but try the food of one of Italy's very best restaurants: the Michelin three star Da Vittorio from Brusaporto, just outside Milan.
Da Vittorio is one of five multi-Michelin starred Italian restaurants that are each taking a month's residence in Harrods' lower ground floor restaurant between now and January 2015. I went along on the second day of Da Vittorio's month long occupancy, just as the kitchen had been vacated by Carlo Cracco of Ristorante Cracco and before they depart at the end of October to make way for Gennaro Esposito of Torre del Saracino.
Da Vittorio is a family affair and the kitchen is run by the Cerea brothers, Enrico and Roberto. Unfortunately Roberto was detained in Italy when we were there, but his younger brother Enrico was in the kitchen to oversee production of the £115 (£140 with matching wine) six course tasting menu I was there for.
Having read glowing reviews of meals served at their hilltop villa in Lombardy, it seemed like the Brothers Cerea could cook like angels so I had high expectations. After a couple of mouthfuls of aged Grana Padano and an amuse-bouche of Cantabrian anchovy and hazelnuts, the meal proper started on a high with a pair of perfectly cooked langoustine tails in an almond cream and wild peas from Roveja. Indeed, so perfect that I realised all other langoustines of my acquaintance have been treated comparatively poorly by other, less skilled, chefs.
Onwards to a duo of dishes which both came anointed with generous helpings of white truffle from Piedmont. The first was a spoonful of polenta, topped with robiola di Roccaverano – a goats' cheese from Aosta, white truffle and Grana Padano sauce. Sounds pretty good eh? This was followed by another cheese and truffle combo, in the form of a potato gnocchi filled with cheese (probably fontina, but I didn't ask and the menu didn't specify) and topped with more white truffle.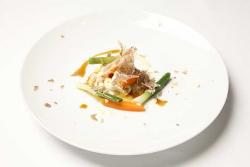 All too much of a good thing? White truffles and I cross path so infrequently, so definitely not. And even though both dishes sound rich enough to make an oligarch jealous, neither was heavy in any sense of the word.
The evening's only culinary disappointment was the main course. A piece of wild sea-bass arrived on a bed of yellow tomatoes and topped by a sort of potato espuma. The yellow tomatoes had an almost miraculous gentle sweetness to them, but the espuma had a texture similar to wallpaper paste and did a good job of gluing my mouth together. A near-miss.
E finalamente, an avocado cream with caramelised macadamias and a yoghurt sorbet. This arrived with a bit of'culinary theatre' in the form of some cascading dry ice, which I suppose might provide some brief entertainment, but it is pretty old hat these days. The cooking was top notch though.
There is no doubt as to the very high quality of cookery, as a craft-form, on display here. And if you like Michelin-style cooking and don't mind paying a lot for it, you will love the Cerea brothers' food. These days I tend to steer clear of it though, preferring one plate of hearty and soulful food to any number of differently textured and adorned courses. If they could do me an enormous bowl of osso bucco and risotto alla Milanese I'd be back like a shot.
See what's on the Stelle De Stelle menu next
The chef speaks:
{YOUTUBE:sstyARy_FYs}