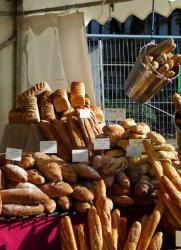 For those of you for whom Stratford-upon-Avon summons up visions of hags around a cauldron – or worse – quote-cramming for English lit exams, Shakespeare's birthplace can now have a different meaning. On Saturday 24th and Sunday 25th September 2011, the town will play host to the fifth Stratford Food Festival.
As well as lining the banks of the River Avon, this year the festival hits nearby streets by joining with three food markets across the town, offering a fun-filled and tasty day out for all the family. The event brings together a selection of local producers and some from further afield, who are passionate about putting the quality food and drink on the table.
Punters can either attend for the day – or make a weekend out of it – and find the town's beautiful riverside gardens bustling with stands as diverse as organic meat and veg, locally-brewed real ales, beers and ciders, artisan cheeses and award-winning ice creams.
There will be a British Farmers' market in the heart of the town as well as a French Market on Bridge Street and an Italian Market on Henley Street, plus live music and entertainment all weekend.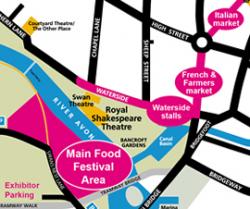 Work up an appetite and try some organic beef from Brown Cow, hog roast from Castlemoor or a juicy burger from Happy Herefords. Turn the heat up with David's Chilli Oil or Anila's Authentic Sauces and enjoy some tasty nibbles from The Big Yum.
Wine lovers will find plenty to either savour or get tipsy on with wines from Kiwi Cuisine and Pure Spain, as well as English Gin from Foxdenton Estate. But if it's a pint you fancy, pull up a stool for UBU from Warwickshire's own Purity Brewing Company, at Stratford local, The One Elm.
And afterwards, you can learn about how honey is made with the Stratford Beekeeping Association. The proceedings will be overseen by chef, author and TV presenter Alan Coxon, who is the festival's ambassador this year.
Tickets, costing £5 for adults, will be available online from www.stratfordfoodfestival.co.uk or by calling the ticket hotline which will be available soon. Children under the age of 16 enter free of charge. The festival is open from 10am to 11pm on day one, and from 10am to 6pm on day two on the banks of the river Avon, opposite the newly-refurbished Royal Shakespeare Theatre, and throughout the town.