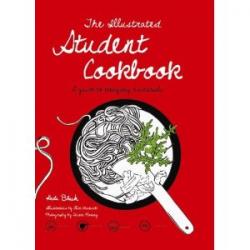 There's nothing worse than coming home to see that your flatmate has been cooking. And that he has dirtied every single piece of kitchen equipment you own in the process. You wonder why he even tried in the first place — you've never seen the kid do anything beyond nuking some leftover curry before, so why now? Maybe it's because he has got himself a copy of Keda Black's The Illustrated Student Cookbook. Inside are 35 recipes which require limited cooking equipment — a toaster, oven, microwave, and hotplate, and a Survival Kit of essential kitchen tools.
Anyone who has lived with several flatmates also knows the second worst part about sharing a kitchen: the overstuffed fridge, bursting with too many varieties of salad dressing, multiple pots of hummus, and umpteen containers of leftovers. Even if you wanted to purchase a sensible stash of pantry basics, there sometimes is simply nowhere to keep them. Keda Black's book has it sorted — the front cover displays the absolute essentials, the ingredients you actually need to satisfy hunger and snack attacks. No one-trick-pony or expensive ingredients here, just bits like greek-style yoghurt, butter, milk, soy and Tabasco sauce.
The recipes are selected with a student budget and timeline in mind. A "real adult" might not qualify Creamy Lemon Butter Pasta as a full-on meal, but for students, it is cheaper than the M&S readymade option and just fine as fuel for a night of revision. The book also has several recipes perfect for bringing to parties, like Easy Hummus, Real Tabouleh and Super Salsa for Nachos.
The Illustrated Student Cookbook also has more substantial recipes, like one pan Real Steak & blue sauce, mustardy and creamy Express Chicken, panfried chicken breast with creme fraiche and mustard, DIY Noodles which take some inspiration from pad thai, and Green Fish Curry, which uses frozen veg, a jar of curry paste, and canned coconut milk to create a fragrant broth for fish pieces.
The book's dimensions and pictures feel more like a children's book than one about cookery. The comic strip style design is engaging, and the photos are just enough to tempt you to the kitchen rather than ringing up the takeaway. There's not a lot of ambition or storytelling behind the recipes, but as a student, ambition is probably better reserved for the academic pursuits of university life — not to mention a few romantic ones. If you did succeed in the romance department, the book also features some recipes great for breakfast, like Sexy Porridge and Wake-up Strawberries.
All in all, The Illustrated Student Cookbook has just the right amount of creativity, clever organisation, and realistic recipe choices. Some may see this book as a just fitting graduation gift, but actually, its contents are quite useful and will invariably lead to success in the kitchen, money in the bank, and a full stomach.