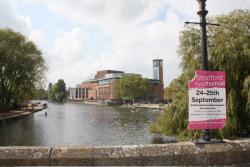 Surely there's more to Stratford-Upon-Avon than Shakespeare? On a stormy and sunny weekend at the end of September, I visited its annual food festival on the banks of the river Avon to find out. The first thing we discovered was how many of the bard's hometown descendents jaywalked across the streets. No doubt sick of the tourist stream photographing Tudor cottages, the market town's pensioners seemed to bay for bust-ups with car drivers.
Driving carefully, we found a healthy turnout of families swarming a circus of marquees on council recreation grounds where the food festival was taking place.
Our next spectacle was that of chef Alan Coxon regaling the crowds with the history of medieval old English 'Ale-Gar" – his proprietary version of vinegar which he says predates balsamic by 150 years and disappeared from the UK 300 years ago. It tasted sweet and spicy and seemed thin enough to be used as salad dressing.
Then we passed a stall run by the local beekeepers association where a charming couple dissected hives to show children the honey-making process. A bumblebee had been visiting all day, said the nice lady, and there it was, poking its proboscis into a cube of honeycomb.
The fair exhibited some local cheeses, many of which seemed to be flavoured – jerk chicken, curry and Irish whiskey unlikely Stratford candidates, perhaps influenced by nearby culturally-diverse Birmingham. And it was a culturally diverse affair. There were some food fair stalwarts – Anila of Anila's Authentic Sauces reminded us they were 20 years old next year – and were flourishing despite having less of a visibility than the more commercial Patak's Pickles. OK!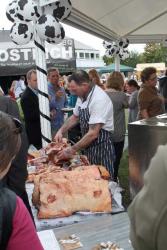 It's So… Mango had a stall pumping 'the first 100% natural Alphonso mango pulp (no preservatives), to be introduced into the UK market," according to their literature. Very nice too but how can you go wrong with mangos anyway?
Hugh Fearnley-Whittingstall's Fish Fight campaign was represented by the town's One Elm pub. Its stand was selling excellent Mack Baps – flash-fried tender fish, delicate tempura-like batter – as part of Hugh's mission to get more mackerel into Britian's fish & chip shops.
I'd have liked to have seen more heritage products celebrating the cuisine of the surrounding areas but the event seemed a success with kids and adults alike in good spirits – and how refreshing to see a food fair lacking snobby pretentions and £5 sourdough loaves.
Being a two-day event, and the town being rammed, we were staying on the outskirts of Stratford at the Stratford Manor Hotel. But we chose to eat at its sister hotel's restaurant, Quills, because it was closer to the town centre.
The restaurant is trying to break out of its hotel mould, not an easy thing to do. While its food still retains some of the standard features found in hotel restaurants – the fridge cold corn-fed chicken terrine, the carrot and orange soup whose flavours didn't quite gel, my pan-roasted loin of pork with sauteed potato, puy lentil, root vegetable and chorizo cassoulet was ambitious enough to rival a standalone restaurant – although perhaps the pork could have been a little less cooked. And it was good to see a cheeseboard with local cheeses. The young service on the night was excellent, however.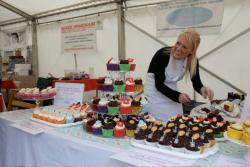 The Stratford Manor was, as its name suggests, giant and laid out in the style of a manor house with wild and quite fascinating surrounding grounds including an abandoned bird-watching tower. Specialising in conferences and weddings, it was not surprising that there was a hen-night celebration that Saturday.
By midnight, we were listening to an inebriated woman sitting alone in the bar, berating her mother on her mobile. This usually being my specialism, it was a relief to for once appreciate a hotel room without wine goggles. Very comfy and not business-like in the way I'd expect a conference hotel to be – our room was spacious with a desk and gratifyingly firm bed. I'd like to say I went to bed dreaming of Shakespeare but that's not quite the story.
Stratford Manor
Overnight accommodation starts from £109 per room for two people on a bed and breakfast basis
Tel: 01789 731173
The Stratford
Restaurant prices start from £25 per person for a three-course meal. Overnight accommodation starts from £139 per room for two people on a bed and breakfast basis
Tel: 01789 271000