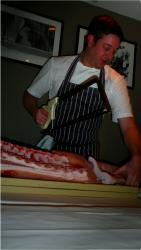 Invitations no longer tumble through the post – they ping through the ether. I recently received an irresistible one: to see a saw tugged through a dry-hung swine. Playing butcher, chef, Adam Byatt would talk us through rump and rack as he separated, scraped and minced (or should I say, used a mincer), whilst perma-tanned Jean Trimbach (12th generation ambassador of the leading Alsace wine producer) would supply agile refreshments. The venue: 'Trinity', Clapham Common, named, according to staff, because dishes originally featured three components, although its location within a triangular parade seems a more fitting explanation.
Byatt spent much of his youth 'cooking egg-white only omelettes' for Dame Barbara Cartland when she kept table at Claridge's. How that venue must miss their star. An apprentice turned member of the Academy of Culinary Arts, he describes his early exposure to cooking warmly. 'Instead of recounting the usual sob stories of chefs like Giorgio – rolling macaroni on one knee – I learnt about food from my mother, a cook to directors' dining rooms.'
A sleek-fronted, but cosy venue softly lit by three-sided lampshades, it pivots somewhere between ideal local brasserie and, on the appraisal of Byatt's mentor, Philip Howard, something meriting a Michelin-star. As with nearby 'Chez Bruce' it has fast become an unofficial embassy for the capital's wine trade since opening end of 2006. In addition to hearty fodder (menus feature hock, marrow and faggots) its sommelier, Rupert Taylor shows inquisitiveness through his 250-bin selection, and is open to corkage (£20).
Overlooking and overlooked by the kitchen, a glug of hacks gathered at the chef's table. Ben Smith of importer, Enotria, sits beside Trimbach. If Smith's name might seem familiar, it could be because he played bass for pop band, 'Curiosity Killed the Cat'.*
Beginning the autopsy on the bright pink half-loin of Gloucester Old Spot, Byatt proclaims, 'Britain produces the world's best pigs – and this is the quintessential breed.' Stroking its skin with his German blade's tip, he asserts, 'I can tell you about the last 10-minutes of a beast's life. If its skin is ruffled and bruised, and the flesh stiffened by lactic acid, it shows it suffered. But this one is tender.' As lights are raised to make easier work for photographers, Trimbach nods excitedly, 'the cochon becomes nobler in light!' A relatively small swine, Byatt confirms that he prefers working with slim specimens 'under 50kgs, and 9-12 months old depending on breed.' Drawing a comparison with viticulture, Trimbach agrees, 'it's true, we don't like grapes that become bloated and therefore flavourless…'
Liver removed with a plop and cuts categorised, Byatt proceeds to loop heat-resistant string around neck fillet at a furious pace. Extolling the virtues of buying in an animal, he advises, 'a side is much cheaper than pre-portioned parcels. This one cost £45 [wholesale] and should yield enough for 25 people.' Above fiscal value, butchery confers craft, 'which I am damned to lose.' When asked from where the popularity of ready-meats came, Byatt loses no time in attributing this to '[Sir Terence] Conran, who bought in prepped meat as a time-saving measure when feeding 1000s.' In addition to sharing his passion with a kitchen brigade which, in touching symmetry, includes an apprentice from the Academy of Culinary Arts, Byatt voluntarily (and perhaps worryingly) teaches knife skills to 'naughty' 14-year-olds at adopted school, 'The Academy'.
Carcass away to kitchen, we begin the feast with fluffy, poignantly roe-stained Taramosalata scoops smeared over sweet, charred, crisped flatbread. This is followed by piggy hit number one, prefaced as coming 'from a pig we did earlier'. Thick-cut devils on horseback are stuffed with moist Agen prunes (the historical provenance of which outdates Trimbach's 1626 foundations by four centuries). Served in a wide-brimmed, fragile glass tea cup, white onion and thyme velouté is consistently spun with black truffle flecks and offered with a singular, greaseless onion ring. Reticently currant-leaf scented, Trimbach's estate and grower-grown '07 is a dry, stony Riesling which alas proves a hopeless collaborator, curtailing the cappuccino's cosseting creaminess.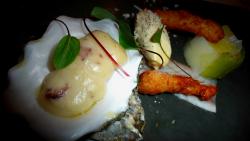 Served on a slate which thoughtfully for staff features handles (Byatt claims to have spent two-years building his front of house team), the next dish is introduced with 'this is as pretty as it gets at Trinity'. Looking unnervingly like a pair of little fingers, overly potent sole goujons fall over a uniform eel slither, laid-out like a zip, but hauntingly flavoursome. But the best part is a pristine, tightly-woven leek terrine. By contrast, an inexplicably steamed rock oyster in an odd membrane is unnecessary embellishment. Made only in good years, Trimbach's gold-labelled '02 Pinot Gris Reserve-Personelle is still fresh after five years with a glossy mouth-feel. But lacking the body of age (minimum recommended cellaring is 10 years) it seems submissive against almost every part of the dish.
The next porcine plateful: pig's trotter bisected by a long wisp of cracking crunchy crackling, adorned with a golden quail's egg and framed by a rim of frustratingly wine-repelling sauce gribiche. This is rendered unflatteringly on a cross-section of trunk. In answer to my slightly tipsy enquiry, does Byatt take inspiration from the obligatorily 'legendary' Koffman, he answers bluntly that he does not, preferring to de-bone his trotter post braising rather than prior. Pinot Noir Reserve ('07) is simultaneously lean and sugary, again made meek by acidity, this time of the vinaigrette-like green sauce.
The final savoury course, which I was most looking forward to, fails absolutely. Despite being decadently glazed in maple syrup, the pork belly has suffered, as would I, from being held in a water bath for 16-hours at 68c. It is as supple and appetising as rigamortis. Making matters worse, it squats black olive mash which, as tabletop mumblings confirm, evokes a pat from a cow on a laxative-only diet. Saffron vinaigrette, and mushy celery 'hearts' (warmed celery is charmless) makes a farce of wine matching. But two are offered – choice rieslings named after ancestor, Cuvée Frédéric Emile, from '97 and '01. Delightful enough, but the '01 spontaneously wizzarded by Taylor (on his list for £100/half) is what really proves the riesling to be cheerful about. Justly commemorating the Trimbach's 375th anniversary, this striking syrup unravels with a sustained energy and a beam of acidity. I want to take a taste to heaven, but realise that heaven is already spinning in my glass.
We finish with a crisp quince tarte Tatin (this version of the allegedly accidental dish seems very much in vogue) cleansed with elegantly fading nobly-rotten gewurztraminer from '89 – the year the Soviet Union's collapse was heralded, the Australian PM cried on TV after admitting adultery, Japan's Fantasty Novel Award was established. Floral, even flamboyant, with a hint of anise on the long-lived, iron-stained palate, the richness of drink and dish seem finally in unison.
Mini truffles from Bucks chocolatier Damian Allsop follow, apparently made with a water-based ganache. Regardless, they set like cocoa cannonballs in my tummy.
As we eventually leave, Byatt kindly gifts us kits in Kilner jars to recreate his signature trotter recipe (albeit on a plate not a plank).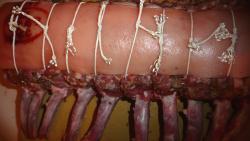 I reflect. Both chef and winemaker showned unremitting passion. Divorcing the ungainly patty mash, unrequited water bath, and mean Pinot Noir, I spied repeated finesse. It is just a shame that there has been next to no dialogue between dish and glass.
*Disclaimer: any rumours about a Curiosity Kill the Cat comeback gig are sadly fallacious…
Trinity's next pig master class occurs 2nd March
For details of Enotria's wine portfolio: www.enotria.co.uk
For Trimbach's story: www.maison-trimbach.com
www.trinityrestaurant.co.uk – 4 The Polygon, London. SW4 0JG