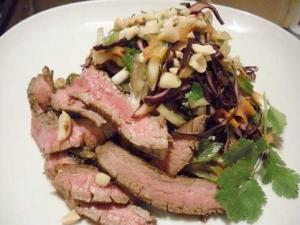 With the spirit of a New Year detox in mind, here is my next offering to you proving to you that making healthy yet delicious meals, needn't be a laborious task. I love this dish, the salad is zest, crunchy and bursting with flavour. Just the kind of incentive you need to eat healthily and this is exactly what this series of recipes are about, eating healthily. Diets are DEAD. Restricting yourself is no solution to weight loss, but eating good food in abundance, healthy and hearty is the way forward and it doesn't have to be torture! This recipe is so quick to put together, the whole thing takes about 20 minutes, so what's your excuse for not trying it? Can't think of one? No, me neither, its absolutely delicious!
(Serves 2 as a main or 4 as a starter)
Ingredients
400g of beef steak (I love using skirt steak as its delicious and cheap too!)
½ red cabbage, thinly shredded
4 carrots, peeled and grated
1 bunch of spring onion, sliced diagonally for longer pieces
1 small bunch of coriander, roughly chopped
3 inches of fresh ginger, finely grated or minced
Juice of half a lime
5 tablespoons of light soy sauce
3 tablespoons of sweet chilli sauce
1 tablespoon of water
A little olive oil
Method
Basically you can use whichever cut of steak you like for this dish, I use skirt, because I think it's incredibly underrated and also really cheap. Season the meat well with salt and pepper, rub with a little olive oil (I use olive oil spray) and cook the meat to your preference, although my recommendation is 8 minutes each side on a medium-high heat. Remove the meat and allow to rest, keeping in mind that when served, the meat should be warm and not hot, otherwise it will wilt the salad.
For the salad, simply put all your ingredients, sauces and seasonings into a bowl, give it a good mix with your hands to ensure everything gets a good coating of sauce and simply serve up. How simple is that? It's entirely guilt free, so you can stuff your face! And if you are a veggie, replace the beef with a nice piece of grilled Halloumi or some grilled Portabello mushrooms… Perfect.