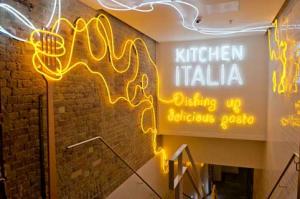 It's a bit like an Italian Wagamama,' says Al peering about the room with interest. 'Waga mama mia in fact!' He looks at me and sees my face twitch, 'you're going to use that in the review, aren't you?'
Yes I'm not too proud to plagiarise and he's right. The underground location and the big long tables are reminiscent of Wagamama's no-nonsense approach. Here too is the promise of eating cheaply en masse with no frills and if there are spills, well no one is going to mind.
Jamie Barber, who owns this new branch of Kitchen Italia, and the original in Westfield, also owns Hush in Mayfair and Villandry too. He knows the London restaurant scene and this Italian Eatery is well in tune with the zeitgeist. Proper pasta, properly priced but in a cool setting. No fake Trattoria ambience, no cheap canteen, instead a space created by the same man who did Pizza East, Babington House and Tom's Kitchen – a roll call of cool.
Jamie wanted a space that specialised not in one Italian region, but to act as a tour of The Boot. Some dishes light and lunchy, and some 'carry me out' heavy, and he wanted it affordable. At around £8.00 for any main dish, he's achieved that for sure.
But has he risen above the 'Spaghetti House' standard? Well on the evidence of what we ate, he's getting into in Spaghetti Mansion territory. Crispy bread sticks (deep fried pizza dough) are marvellous. They come with a spicy tomato dip or a hot anchovy sauce and apparently are a great favourite on Italian beaches and must contribute to childhood obesity in a big way. Hard to resist and harder to stop eating, while the deep fried basil leaves are delightful crisp treats that actually form a part of your five a day, well sort of.
We scoffed some rather wet parmesan and mozzarella risotto balls, which didn't have enough mozzarella in them to create the stringy 'telephone' lines of this Roman favourite, but they were tasty in their own way. And filling too.
From the main pasta menu I had one of my favourites, Mafaldine with spicy sausage. Malfaldine are strips of pasta that resemble lace trimmings, and the sausage meat had been slow cooked but still had the crispy caramelised bits that are so vital to the flavour. Nutmeg and fennel wafted out too and it was a real belly liner, as pasta should be, the idea being that you will enjoy your meat main course all the more when no longer ravenous. Well by the time I finished I was more in need of a lie down than a second course. It was very, very good.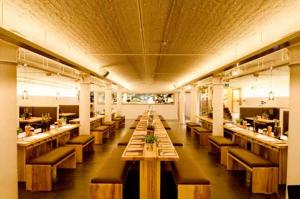 Al liked his pumpkin gnocchi with sage butter – sage and pumpkin just cosy up together like Brad and Angelina – and the linguine with clams I saw go by was tempting with its heady aroma of garlic and the sea.
People not into pasta, and apparently there are some around, can have chargrilled steak, chicken or swordfish and there are salads too, not that I cared to even consider that option.
Carafes of wine are simple things but they match the pasta for price and a dessert of a lemon polenta cake was rather gorgeous, far lighter than it looked, while the chocolate ravioli with Bacio ice cream was sending some people into frenzies.
With an express pre and post theatre menu for £9.95 including some wine, all bases are covered here. It's not the spot for a romantic dinner a deux, but for honest, flavour packed, well-priced Italian food I can't think of anywhere that competes in London right now. Rush in and waddle out.