30 Bruton Place Mayfair, London W1J 6NL theguinea.co.uk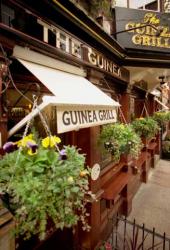 The Guinea Grill is unashamedly old school, old rather public school in fact. The dining room is a female free zone, at least when we dropped in, and the men stocky, well nourished and well to do. It's not a place to appeal to Guardian readers or vegetarians, often the same people of course. Nor is it somewhere a young blogger might feel at home either, they'd be better off in Hawksmoor with their own kind.
Me I like it a lot. I am an old geezer after all, I went to a minor public school and am putting on weight. The Guinea has no social media guru grooming people online, it doesn't ask me to 'get involved' or 'be engaged' it just does what it's been doing for 60 years which is serve food to people that want to eat not tweet.
60 years is a long time, just ask the Queen, and to celebrate the Guinea is putting on the menu they served all those years ago, the 'no menu' for diners booking on any Friday and Saturday evening in June. You roll up, sit down and get Scottish smoked salmon, a choice of Aberdeenshire sirloin cut, originally hanging in the pub but now safe in a glass fridge, and cooked on a grill right by the door. This comes with a baked potato with sour cream and chives, Strawberries and cream, coffee and petit fours. A welcome glass of Young's Jubilee Ale or champagne, a box of Guinea Grill homemade chocolates and a copy of the Red Meat Cookbook, featuring 30 beef, lamb and pork recipes, is also included and all at £60 per person.
Sounds a lot of money, but this is Mayfair after all. You don't wander around tutting at the prices, you expect them. The old room has a certain timeworn charm as do the serving staff with the sommelier, a veteran of many years, a ringer for the doorman in Waugh's fictional Mayfair club 'Bellamy's' in the Sword of Honour trilogy: a little eccentric perhaps but a great character who more than knows his stuff.
All around us men are chewing comfortably and contemplatively while from beyond the room comes the sound of happy pub in full effect. Tucked away as it is in a quiet mews, the Guinea has the feel of somewhere off the tourist track and popular with real Londoners.
The smoked salmon is perfect, even down to the lemon in muslin a touch of old school that still makes sense today. Capers sprinkled and plenty of buttered brown bread helps it slip down a treat. You don't need to photograph this kind of food, indeed there's nothing much to see. You just eat it and enjoy it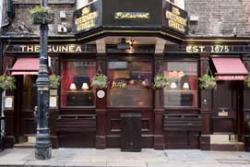 Of course this is all prelude to the main act, the steak. Although you can have any steak you like from the selection in the cold cabinet, I plump for sirloin. Next to onglet it's my favourite cut of all; fillet I find too smooth, too lacking in true taste, it's not a steak for steak likers but I admit nothing else will do in a beef wellington. Our sirloins come flying off the grill just right; seared crisp on the outside and pinky in the centre exactly as they should be. Cook a steak all the way through and you might as well move it from grill to bin without passing plate.
It's a heroic struggle, the meat's great but it's a big boy meal. We chew, we grin, and we try not to dribble too much. This is fine food for sure and what's not to like about a baked potato? We finish off the main and wait for dessert and landlord Carl Smith, who has managed the pub with his wife Pauline for almost 24 years, comes over to tell us about the second part of the offer, a guided tour of the surrounding Mayfair streets showing where some of its most famous, and infamous, residents and regulars have lived, including Jimi Hendrix and Florence Nightingale. We can't do it today, but it does sound good.
We eat the summery dessert; it's the right weight for two blokes suddenly feeling their weight. As we leave the pub, the pavement in the mews is heaving with happy punters and there's a strong smell of beer in the air as the sun warms the cobblestones. This really is old England, the Jubilee spirit is in the air and the steak sits snugly in the stomach.
---
The Guinea Grill 'Jubilee Package' is £60 per person, available Friday and Saturday evenings throughout June with sittings at 7.30pm and 9.30pm, and should be booked directly with the pub, places are strictly limited -The 'Jubilee Package' includes champagne aperitif or pint of Jubilee Ale on arrival, Scottish smoked salmon and bread starter, 10oz sirloin steak, jacket potato with sour cream and chives, and mixed salad main, strawberries and cream dessert, after-dinner coffee and petit fours, and box of Guinea chocolates, plus pre-dinner Mayfair heritage tour.
Customers should register at www.theguinea.co.uk or any other Young's pub before 20th May to receive their 'complimentary Jubilee drink' voucher via email.