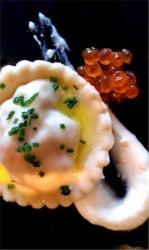 This exclusive starter is surprisingly easy to make as the ingredients do all the talking. Truffles, caviar, crayfish and crab may not be everyday eating for most of us, but I guarantee this dish is well worth a second mortgage.
Ingredients
FOR THE RAVIOLI
Pasta:
400 grams Tipo '00″ Flour
4 x Large Free range eggs (whisked)
The Ink and oil from 1 tin of good quality squid
Ravioli Filling:
1 x Large Dressed Crab (white and brown meat)
150g x Crayfish
Squid from one can of good quality squid
7 or 8 chives chopped finely
Juice of 1/2 a lemon
1 x Clove of garlic crushed
1 x Shallot (minced)
Olive oil
FOR THE HORSERADISH EMULSION
1/2 Jar creamed Horseradish
1 x Egg Yolk
3 x tablespoons double cream
1/2 x tablespoon lemon juice
1 x tablespoon melted butter
Salt and white pepper
GARNISH
1 x teaspoon of Salmon Caviar per serving
1 x slice of Black truffle per serving
Truffle oil
Finely chopped chives
Method
1. Pile up the flour on a clean surface; make a well in the middle. Whisk the eggs and pour them into the well along with the squid ink and oil. Combine mixture and kneed for about 10 minutes until a firm dough forms. Cover in cling film and leave to rest for 20/30 minutes to soften and become pliable.
2. Place all of the filling ingredients into a mixing bowl. Cut any large bits of fish into smallish chunks but try and maintain a variety of textures (rule of thumb: the crayfish tails should be left whole or halved once maximum)
3. Place pasta dough onto a floured surface and roll out thinly. Cut the pasta into 5cm squares
4. To form the ravioli, place a heaped teaspoon of the ravioli filling into the centre of one square of pasta and lay a second square over the top. Pat down carefully around the filling, being careful not to trap any air before sealing.
5. To seal, press the top layer of dough firmly into the bottom layer and cut a ravioli shape from the dough using an appropriate cutter.
6. Place the raviolis in boiling salted water for about 5 minutes and cook until tender
7. Whilst the ravioli is cooking, place the horseradish emulsion ingredients in a blender and whizz together for a few seconds. Add a tablespoon of the mixture onto each plate.
8. Place the cooked ravioli directly onto the horseradish sauce, and then add:
a teaspoon of salmon caviar to the side;
a nice slice of truffle on the top of ravioli;
a flourish of truffle oil across the pasta;
and a finish with a sprinkling of chives.