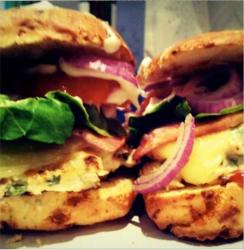 East meets west in this burger. Classic Thai flavours delivered the all American way!

Ingredients
The Patty
3 chicken breasts roughly minced
4 spring onions finely diced
2 teaspoons garlic puree
3 tablespoons desiccated coconut
zest and juice of half a lime
Big handful of finely chopped coriander
1 small head of ginger finely chopped
1 green chilli finely chopped
1.5 tablespoons fish sauce
1 egg
salt and pepper
The mayo
Mayo
Squeeze of lime
chopped coriander
The toppings
1 slice of sweet-cured bacon
2 thick slices of Tomato
Red onion rings
1 leaf of baby gem lettuce
BBQ sauce
Cheddar cheese
The Bun
Any crusty bun (I used a crusty cheese bun)
Method
Combine all the ingredients for the patty in a mixing bowl and mix until well combined
Shape into patties (they will be quite loose) and fry in a little olive oil
When the patties are cooked through, add the cheddar to the top of them and cover the pan to allow the cheese to melt.
Grill the bacon as the cheese is melting
Combine the mayo, lime juice and coriander and spread on one half of the bun
spread a little BBQ sauce on the other half of the bun
Build the burger up with the toppings and serve.