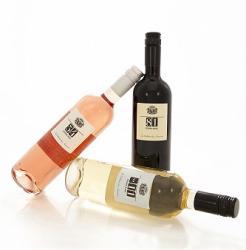 Leather on willow, grapes upon the vine. What does cricket have in common with wine?
Well, for England pace bowler James Anderson they represent two of the great passions of his life; and having brought us the cricket, he now seeks to fill our glasses with his own brand of red, white and rosé.
James temporarily left the crease to collaborate with Les Domaines Robert Vic, a French wine producer in the heart of the southern Languedoc region. There he developed'The Numbers Collection', his own range of wines that carry a little bit of his personal cricketing history on their labels.
No.11 Reserve Blanc 2014 is a clean and floral white wine with lightly tropical fruit and a slatey minerality. It is derived from a slightly unusual blend of Vermentino, Sauvignon Blanc, Chardonnay and Viognier grapes.
The number 11 refers to James' most commonly encountered batting position in which he once scored a record 81 runs.
A more typically Languedoc blend of Cinsault and Grenache grapes is employed for the 54 Reserve Rosé 2014.
It is a successful and roundly fruity wine with a decidedly moreish strawberry character. Here the 54 celebrates the number of test innings that James survived without being dismissed for a duck.
To complete the field, James recalls his score for England against India in 2014 with the 51 Reserve Rouge 2014.
Grenache, Cinsault and Cabernet Sauvignon grapes vinified in a modern, international style produce a soft red which delivers a sweetish, caramel coating to smooth red fruits.
The Numbers Collection, like the game of cricket itself, may well be best suited to summer enjoyment; but the vibrant, light style will find favour at any time of year for those who prefer approachable, easy-drinking wines.
The Numbers Collection is available from Milton Sandford Wines' online wine shop www.winecellarclub.co.uk priced at £9.95 per bottle.