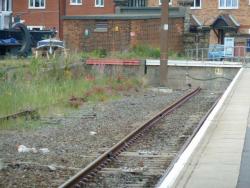 'Frinton for the incontinent, Harwich for the continent," says the hotel manager while taking us on a whistlestop tour of Harwich town in Essex. Although I only half understand this musing, he is a dead ringer for actor Clive Owen and I'm glad the burghers don't wee freely in the streets – so far, so good.
I'm visiting The Pier, a Victorian blue and white, rather lovely hotel right on Harwich's seafront and in full view of the River Stour. It's picturesque in a semi-industrial, semi-lovely coastal way: docks, winsome cranes (that look like chairs) and dockery bustle.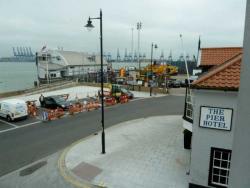 What we see of Harwich Town – literally the end of the trainline – is sleepy but there's the incredible and well-maintained Electric Cinema still standing – one of the oldest picture houses in the country.
The Pier is running 'Sail and Dine" packages – mainly for corporates and to be honest, totally out of my own price range although I am not a corporate. But very pleasant too if you fancy a quintessentially English experience.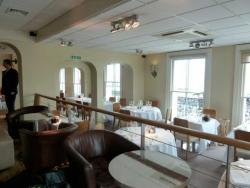 This year, The Pier has welcomed a new chef to its flagship harbourside restaurant: Tom Bushell, who left Milsom's Le Talbooth after six years as head chef to become head chef at The Pier's two AA rosette-winning seafood restaurant.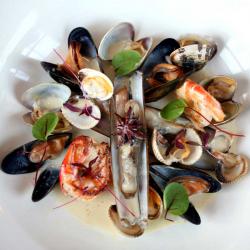 Unsurprisingly, Tom's menus use the fresh seafood landed from day boats onto the Ha'penny Pier just a few steps from his kitchen. However, when questioned on where the samphire in one of his dishes came from, he sheepishly replied it was from Norwich – local enough, Mr Conscience.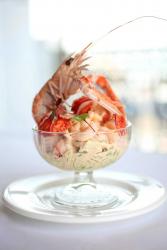 The kind of dishes the Pier offers include: Colchester Natives with lemon and shallot vinegar; Harwich lobster and shellfish cocktail with Marie Rose sauce; Pan-fried Halibut Supreme, oxtail ravioli, parsley root purée; Harwich-landed skate wing, brown shrimp, capers, broad beans; and, for the meat lovers, Braxted rack of lamb or Dedham Vale steak with chips.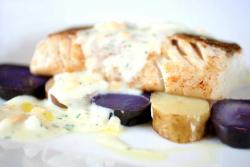 Fair enough but we tried some other dishes from the menu. For starters we had a terrine of Harwich crab, brown and white meats set off by some juicy and incredibly large capers. Our main of fried sea bass, caught the previous day by Tony apparently, had a wonderfully crisp skin, and was still firm but soft. It contrasted well with its bed of samphire and fish veloute – must say – that salt-sour trawler tang of the cockles in the sauce bounced nicely off the fish.
Tom's finale was excellent – a playful medley of retro sweets – local Jubilee strawberries with Arctic roll, whizzy minted syrup topped with space dust, or as the young 'uns called it, popping candy. An explosion of flavours and colours.
Then we did our sail on the yacht, the Viking Mariner, a handsome vessel with teak interiors so polished you could flash the sun back at itself. The trip was quite amusing as the skipper and boat owner, Lee, had once been a senior Essex police officer.
'Essex has one of the highest murder rates in the country!" he said as he whisked us away into the murky and isolated wings of the North Sea. Lee then regaled us with tales of local gangland massacres, mutilations and smuggled rabid dogs as we, captive and captivated audience, shivered our timbers and thought of dry land.