The proof will be in the pudding at this year's Taste of Christmas (2-4 Dec) when award winning chef, Theo Randall will reveal how much money has been raised from a deliciously matured 12 month old Christmas pudding, auctioned to raise money for humanitarian organisation, Action Against Hunger.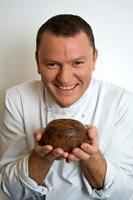 Having appeared with the pudding this week on BBC Breakfast (Stir Up Sunday 20 November), Theo is hoping to help the organisation raise over £10,000 at this year's show, where a pop up restaurant will also help raise money to save the lives of malnourished children and their families in the world's poorest countries.
A guest chef will appear each day at the pop up restaurant with L'Anima's Francesco Mazzei (Friday), The Modern Pantry's Anna Hansen (Saturday) and legendary Aldo Zilli (Sunday) leading the charge over the weekend.
Randall, who has his own restaurant at the InterContinental London Park Lane, is looking forward to sharing a taste of his past with the British public. 'As a young boy I would help make a Christmas pudding each year with my mother who is a great cook. This recipe is a family secret which I'm not at liberty to share but I can say that 12 months is the best possible time to allow a Christmas pudding to mature so I'm very excited about sharing this experience with the lucky winning bidder!'
To bid for Theo's pudding visit lovefoodgivefood.org and get your chance to see Theo at Taste of Christmas between 2nd and 4th December at London's ExCeL visit www.tasteofchristmas.com