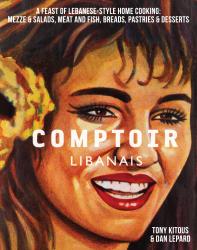 Le Comptoir Libanais restaurants are a joyous celebration of Lebanese style home cooking. With the launch of the Comptoir cookbook, Nick Harman goes to meet the man behind the mezze.
Tony Kitous rapidly fires off a list of dishes for the kitchen to send out to feed us, we're in his restaurant Levant and while it's only a few yards from the flagship of Tony's Comptoir Libanais chain, it's miles away in style. We're here because Comptoir is a bright lively place, throbbing with life, and not a little noise, while Levant is calm and serene so we can chat.
He's dressed in, frankly rather alarming, figure hugging shorts, not because he's a fashionista but because he is currently practicing for another marathon  – he takes part in marathons all over the world. As the dishes start to arrive in fast relays I feel I'm about to take part in a marathon myself, but one where with a bit of wheezing I can still keep up.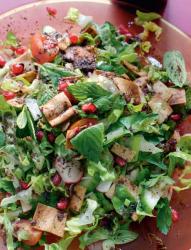 He's a dynamic man is Tony and the staff in Levant clearly know the boss is not to be trifled with. He glances expertly at each dish as it comes out and you can see the waiters rather nervously waiting for approval before moving off. As we settle down to enjoy, Tony relaxes and tells me about food, his restaurants and his new cookbook with its photos by Dan Lepard.
'I'm not a chef.' he stresses.'I know food but I am not a chef'. At eighteen he came to London where for a few weeks he lived on promotional chocolate and kebabs from Turkish restaurants.'My fascination with food oddly enough began there,' and at 22 he opened his first restaurant, which wasn't actually Lebanese.'At that time there was no general market for Lebanese, Middle Eastern food,' he says as we tuck into spicy Armenian sausage, tomatoes, garlic and parsley.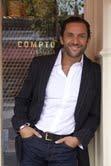 'Eighty percent of those kinds of restaurants were concentrated in the Edgware Road and they sold to Middle Eastern diners,' he explains, as I try a rather good red wine from the Bekaa valley.'They weren't particularly interested in diners who didn't already know the food and what to order. They weren't very welcoming to Westerners. They were really rather intimidating.' Comptoir Libanais was the result of Tony's desire to make the food he loves, and which is so much about sharing and hospitality, available to all.'I was going back to my roots. I wanted a place that was welcoming, bright, lively, well designed and with a great atmosphere. And of course great value with something for everyone to eat.'
That's easier with Lebanese food than with most cuisines. While we think of great skewers of meat when we think Middle Eastern food, that's misleading; the new Comptoir Libanais cookbook is full of dishes that vegetarians will love. Fatoush, the signature salad of the region with its reliance on loads of fresh herbs, crisp salad vegetables and the sweet/sour zing of pomegranate seeds, molasses and lemon juice is one. Or roasted peppers with nuts, chilli and cumin and a superb sounding light moussaka made with tahini and no meat.'I think most Middle Eastern people don't know what vegetarian means; they'll say " you don't eat meat? Are you crazy?"' he jokes,'but ours is a cuisine so suitable for vegetarians. On a full table, like we are eating now, eighty percent of the dishes could be meat free.'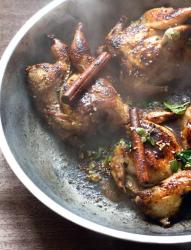 We eat Kibbeh; the recipe is in the book, an addictive dish of minced lamb, bulgur wheat and spices that is deep-fried. And hummus made the way Tony describes in the book, lots of lemon, garlic and tahini making it far more intense and enjoyable than the supermarket stuff we know. Batata Hara, spiced fried potatoes, make me think of Spain's patatas bravas and Tony agrees.
'We use so many ingredients that are the same as those used the other side of the Mediterranean like aubergines and tomatoes.' In the cookbook you'll find a mouth-watering dish of fried aubergine, with yoghurt, crispy onions and toasted pitta. A mixture of cultures all made Lebanese by pomegranate seeds.
For me though, one of the most exciting parts of a book packed with fantastic recipes is the breakfast section.'The Full Lebanese' is a brilliant blend of falafel, ful moudamas, haloumi, labneh plus fried eggs spiced with sumac. Eaten with Lebanese breads, and the book has easy recipes, it's a zingy start to the day and firm favourite at Le Comptoir.
Tony worked out the connection between selling good food at a good price as a small lad back in Algeria.'I was a bit of a street boy,' he says, passing me some grilled haloumi cheese with tomato, olives and fresh mint.'We lived next to the football stadium and at eight years old I would buy tickets for big games and then sell them. And to make even more money I would make sandwiches to sell. Good sandwiches and I would move about to where the crowds were, not stay stuck in one place, so as to get the better business. I didn't stand still!'
With a new Comptoir just opened at Gatwick, serving great food to people more used to being ripped off with rubbish, he's clearly still not standing still now either.
{ISBN:1848093934}